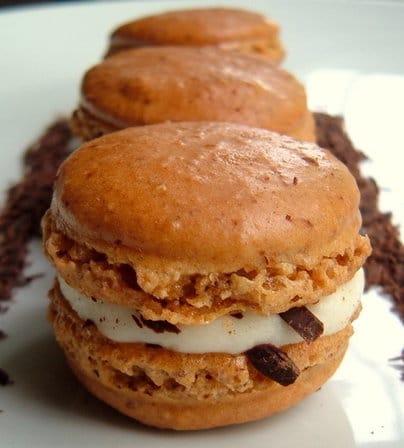 Ingredients
1 c + 3 tbsp almond flour
2 c + 3 tbsp powdered sugar
4 egg whites
3/4 tsp cream of tartar
4 scant tbsp sugar
1/4 c instant coffee (more if you prefer a stronger flavor)
6 oz dark chocolate, shaved
Mascarpone Filling:

6 oz mascarpone cheese, softened
6 tbsp butter, softened
1/2-1 c powdered sugar (as necessary)
1/8-1/4 c rum
---
Instructions
Line two 17-by-12-inch baking sheets with parchment paper and set aside (you may want to fold over the edges to keep the paper flat). In a food processor or coffee grinder, grind instant coffee granules into powder.
In a food processor, blend the almond flour, powdered sugar and coffee for 1 minute. Sift the blended almond mixture directly into a medium mixing bowl. Set aside. (This can be made up to 2 days in advance.)
Fill a small saucepan halfway with water. Bring to a simmer, then remove from the heat. In the bowl of a stand mixer, whisk the egg whites until foamy. Place the bowl over the pot of hot water and whisk quickly until the egg whites reach 100 degrees on a candy thermometer.
Remove the bowl from the pot of water and whisk in the cream of tartar. Place it on a stand mixer fitted with the whip attachment. Whip on medium speed for 2 minutes, then gradually beat in the sugar. Continue whipping for 6 minutes until the egg whites come to medium stiff peaks (tips droop only very slightly) and are shiny.
Remove the bowl from the mixer. Add egg whites to the almond mixture by gently bringing the flat side of a rubber spatula through the center of the egg whites and up the opposite side of the bowl, folding the dry ingredients over the egg whites. Repeat the same motion 50 times, turning the bowl a quarter turn each time.
Fit a pastry bag with a medium round tip (No. 4) and fill with the mixture. On the parchment-lined baking sheets, pipe 1.5-inch rounds (the batter will be slightly wet) by holding the bag at a slight angle and releasing small amounts of batter. Allow one-half inch between cookies; they will spread slightly.
Keep the piped cookies at room temperature, uncovered, for 1 to 2 hours. (This will help form a skin.) If in a high humidity area, place cookies in oven turned off but with oven light on. Remove cookies from oven and heat to 325 degrees, placing the racks in the center and lower shelves of the oven.
Bake the macarons for 12 minutes, reverse the trays on the racks and rotate. Bake 8 to 10 minutes more, or until firm and not wet. Cool on a rack.
Mascarpone Filling:

In a stand mixer, beat the mascarpone cheese until smooth, 1 minute. Add butter and rum and mix until incorporated. Slowly add powdered sugar to mixer, until filling is thick without being stiff. (The mascarpone should outweigh the sugar flavor.)
Update: one reader suggests less rum for a thicker filling – I've modified the recipe slightly to reflect their experience. Go slow and add in parts – you may not need all!
Assembly:

Match up fully-cooled macarons for size and shape. Pipe filling on bottom macaron and sprinkle with shaved chocolate. Place top macaron on chocolate and press lightly.
https://stlcooks.com/tiramisu-macarons/