Jump to recipe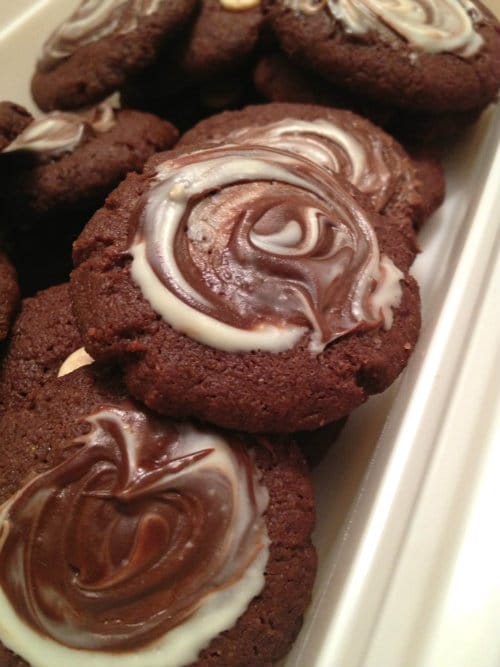 Ingredients
1 C all purpose flour
1/2 C cocoa powder
1/2 tsp. baking powder
1/2 tsp. salt
1/2 + 1/4 tsp. baking soda
1/2 cup brown sugar
2 tsp. vanilla extract
5 T coconut oil
5 T butter (I used unsalted), melted
chocolate & white chocolate chips
Instructions
Pre-heat oven to 325F. In a large bowl, mix together the first six ingredients.
In a separate bowl, mix together the oil, melted butter, and vanilla.
Stir the wet ingredients into the dry and mix until a thick, fudgy dough is formed and all of the flour is absorbed.
Place the dough in a plastic bag and mush it all together into one big ball using your hands. Freeze for 15 minutes.
Break apart the dough to create small cookie shaped pieces and place on a greased cookie sheet. (Note: Use a conservative amount of dough for each cookie. Their circumference will increase as they bake.)
For "Polka Dot" cookies, press chocolate and white chocolate chips into the tops of each cookie before baking. (For regular chip cookies you can simply fold the chips into the dough before freezing.) *And for swirl-topped cookies, place 2-3 white & chocolate chocolate chips on top of each cookie after removing from the oven. Let sit for 2-3 minutes. When they have softened, take the tip of a small spoon and very gently press down while making a light swirling motion.
Bake at 325F for 13-15 minutes. Remove from oven and let cool for an additional 10 minutes before removing from pan.
Recipe and Photo: Hungry Runner / CC BY-SA