Jump to recipe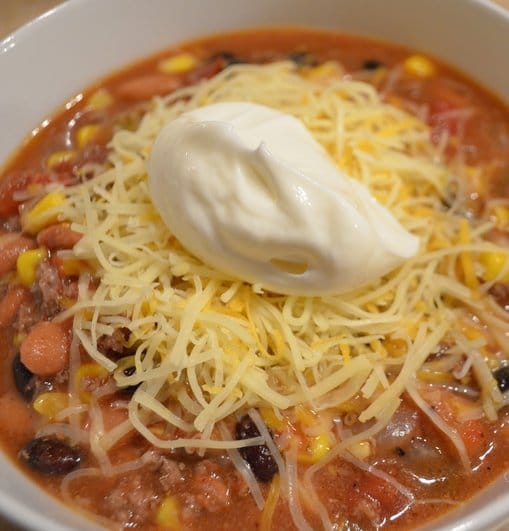 Ingredients
1 pound ground meat (You can use beef, pork, turkey, or even ground chicken if you prefer)
1 medium onion, chopped
a drizzle of olive oil
1 small can chopped green chiles
two 16-ounce cans diced tomatoes (I like fire-roasted)
1 can sweet corn in its juice, or 1-1/2 cups frozen corn plus 1 cup water
two 16-ounce cans any beans (I used one can of black beans and one can of pinto beans this time)
1 package taco seasoning (I buy my taco seasoning from Costco because I use it frequently, so I measure out about two tablespoons)
1 package Hidden Valley Ranch dressing mix
Instructions
In a large soup pot or Dutch oven over medium-high heat, sauté the onion in the olive oil until it starts to soften.
Add the ground meat and cook until browned and juicy. Drain off any excess fat if needed.
Stir in the green chiles.
Add the taco seasoning, plus a little water if needed.
Dump in the tomatoes and corn.
Add the beans, with their liquid.
Finally, stir in the ranch dressing mix.
Taste and season with salt and pepper as you prefer. If you want a little more kick, add a few dashes of hot pepper sauce – Tabasco, Frank's Red Hot, whatever you like:
That's it. Simmer until the corn is tender and the soup is heated through. If it's too thick, add more liquid.
Sprinkle with cheese and garnish with sour cream. Serve with tortilla chips.
Recipe and Photo: Beyond Toast / CC BY