Jump to recipe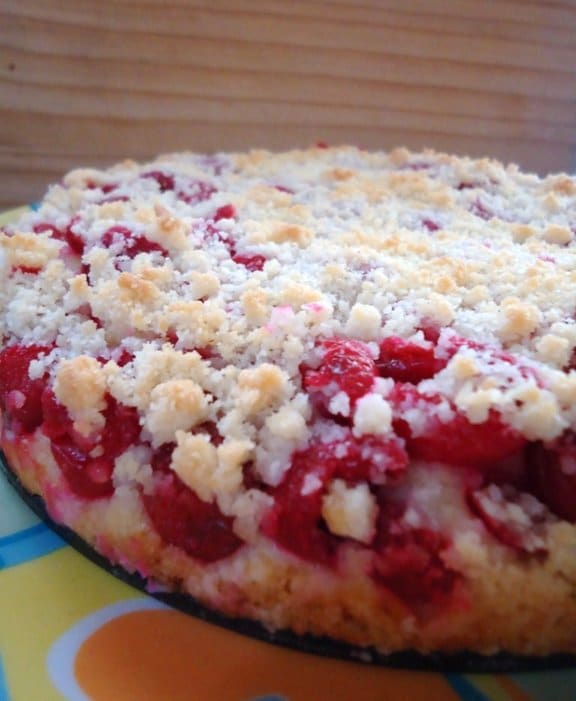 Cherry Crumble Cake

Ingredients
For the cake -
3 1/2oz melted butter
12 1/3oz cherries – pitted (fresh or canned)
5 1/3oz flour
1/2 tsp baking powder
Pinch of ground cinnamon
1 3/4oz caster sugar
1 egg
1floz milk
For the crumble topping -
25gr plain flour
Pinch of ground cinnamon (feel free to increase this quantity if you want a stronger flavour)
25gr caster sugar
25gr butter, cubed
Instructions
Preheat the oven to 355°F. Line a 20cm (8in) diameter spring-form or loose bottomed tin with butter paper at the base and oil the sides.
Roughly chop the cherries and keep them aside.
First make the cake batter – Sift the flour and cinnamon into a large bowl. Add to this the sugar and it well. Then make a well in the center.
In a separate bowl, whisk the egg, milk and melted butter using a balloon whisk or a fork until you get a well mixed liquid. Pour this into the dry ingredients and slowly bring the batter together using a spatula or a wooden spoon. The cake batter is a thick, smooth mixture.
Spoon the batter into the tin and spread it evenly.
Scatter the cherries on top of the batter and gently press them in with a spoon.
Now make the topping. Take all the ingredients in a bowl and rub the butter into the dry ingredients to make a crumb-like mixture. I used soft butter, but cold butter might make a better top crumble.
Scatter the topping evenly over the cherries.
Bake in the oven for 30-35 minutes. A cake tester should come out clean, but you might find slightly wet crumbs sticking to it. This happens because of the cherries. If it has turned golden brown on top, turn the oven off.
Leave the cake in the tin for about 10 minutes so it it cools slightly and then remove it from the tin. Gently run a knife around the edge so removing the cake is easier.
Recipe and Photo: Chocolate Coffee Cream / CC BY-ND