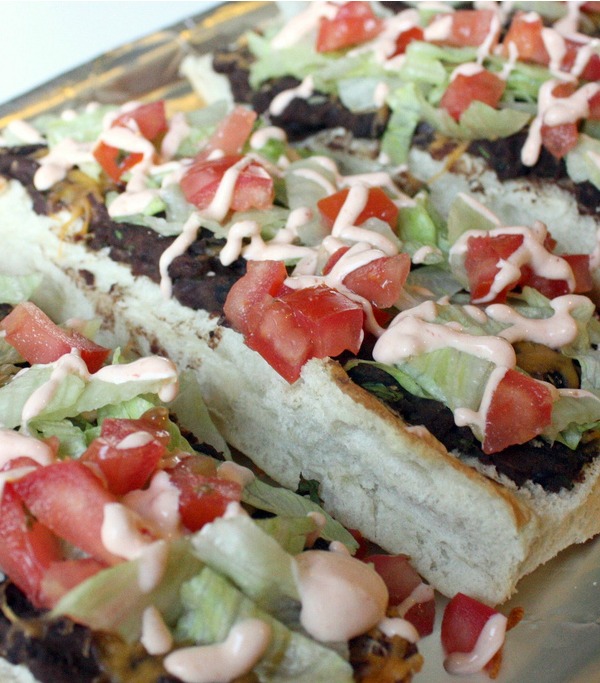 Ingredients
1 loaf baguette or semolina bread, day old is fine
1 tablespoon extra-virgin olive oil, 1 turn of the pan
2 cloves garlic, chopped
1 jalapeno, seeded and chopped or 1 pickled hot pepper of any kind, chopped
1 (15–ounce) can black beans
2 teaspoons hot sauce
1 1/2 teaspoons chili powder
1 1/2 teaspoons ground cumin
Salt and pepper
1 cup prepared salsa, any variety

Toppings:

2 cups shredded Cheddar, smoked Cheddar, Monterey Jack or pepper Jack
1 heart romaine or 1/2 iceberg head, shredded
1/2 cup green olives with or without pimiento, chopped
1/4 red onion or 2 to 3 scallions, chopped
2 tomatoes, seeded and diced
Instructions
Preheat oven to 350 degrees F.
Split bread lengthwise. Hollow the bread out and cut each half in half across, making 4 boats.
Heat a small nonstick skillet over medium heat. Add oil, 1 turn of the pan, garlic and hot peppers. Drain beans. Add half of the beans then mash the remainder of the beans in the can using a fork. Add mashed beans to the pan and combine with whole beans. Season beans with hot sauce, chili powder, cumin, salt and pepper.
When the spicy beans are hot through, spread them evenly across all of the bread. Top with salsa and liberally sprinkle with cheese, covering bread to all edges. The boats will only be half-full. Melt cheese in the oven until it bubbles and begins to brown.
Top Nacho Bread Pizzas with lettuce, olives, onions and tomatoes and serve.
https://stlcooks.com/taco-french-bread-pizzas/
Recipe and Photo: Sunshine and Bones / CC BY-SA