Jump to recipe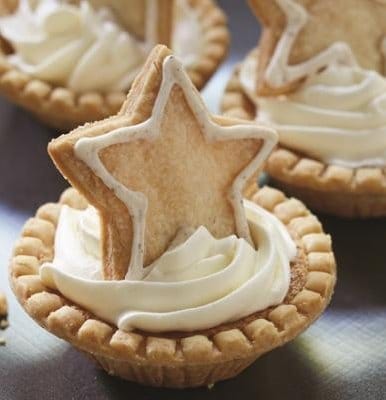 Superstar Eggnog Tarts

Ingredients
2 packages Tenderflake tart shells, or any 2-3" tart shells
1/4 cup (60 mL) sugar
1 egg
1/3 cup (80 mL) evaporated milk
3 tbsp (45 mL) water
2 tsp (10 mL) amber or light rum
1/8 tsp (.5 mL) salt
1/8 tsp (.5 mL) nutmeg
Pinch of cinnamon
:Frosting:
3/4 cup (175 mL) white icing
1/2 tsp (1 mL) nutmeg
1 1/2 cups (375 mL) whipped topping
Instructions
Preheat oven to 350°F (180°C).
Arrange one package of tart shells on a baking sheet. Using an electric beater, beat together the sugar and eggs until light and fluffy. Stir in evaporated milk, water, rum, salt, nutmeg and cinnamon. Pour into the tart shells and bake for 25-30 minutes or until crust is golden and filling is set. Remove from the oven and cool.
Remove the remaining tart shells from the foil tins. Transfer to a lightly floured work surface and press to flatten. Using a 1 1/2 -2" (3.5-5 cm) star shaped cutter, cut a star from each piece of pastry. Place on a parchment paper lined baking sheet and bake for 8 minutes or until nicely browned. Remove from the oven and cool completely.
Mix icing and nutmeg together and place in a small piping bag. Pipe a thin line of icing around the edges of each star.
Top each tart with 2 tbsp (30 mL) of whipped topping and garnish with a star.
Recipe and Photo: Foodista / CC BY