Jump to recipe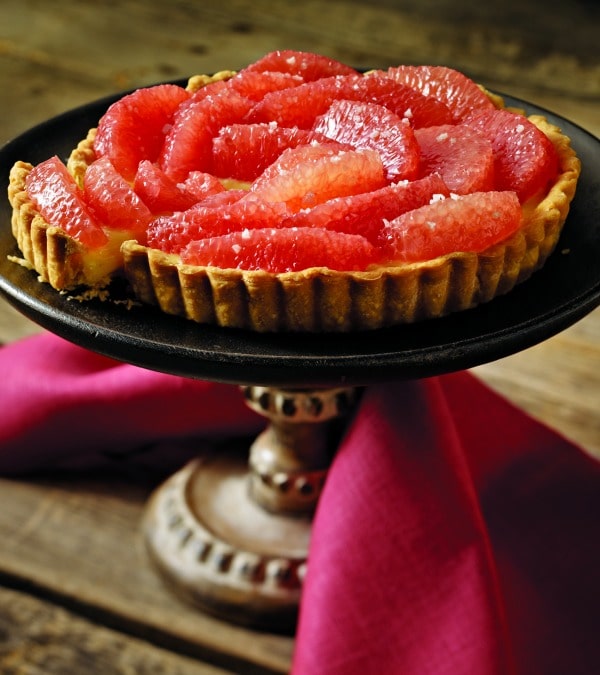 From taking a food tour through the Mediterranean to infusing everyday recipes with exotic herbs and spices, home chefs are eager to explore the world through culinary adventures.
Americans are looking for adventure, sophistication and new experiences in the kitchen, according to a recent survey of people ages 45 to 65 commissioned by Florida Grapefruit. Based on the findings, the top five culinary adventures home chefs in this age group want to achieve are:
1. Spice up everyday meals with trendy, of-the-moment ingredients.
2. Add sophistication to beverages by using fresh herbs in unusual ways.
3. Create an exciting new dessert by pairing unexpected flavors, such as smokiness and a Middle Eastern influence.
4. Adopt a Mediterranean flair by exploring the tastes, culture and ethnic flavors of this region.
5. Add an exotic twist to favorite cuisines with a fusion of two favorite globally-inspired dishes.
To deliver on this wish list, celebrity chef Aarti Sequeira has created a series of tangy, exotic and delicious recipes. Each dish features a sweet and zingy favorite – 100 percent Florida grapefruit juice or fresh Florida grapefruit segments.
The recipes, part of the "Taste a World of Zing" collection, feature step-by-step instructions that give even kitchen novices the confidence to try something new. Among them is the Grapefruit Tart with Cardamom Cream, which answers the call to pair unexpected flavors in the same delicious dish.
For more ways to "Taste a World of Zing," visit www.facebook.com/FloridaGrapefruit to find additional recipes that answer your craving for culinary adventure. Chef Aarti will release a new recipe every two weeks throughout the spring.
Notes
For individual tartlets: Divide pie crust among four 4 3/4-inch tart pans. Bake at 425°F. for about 10 minutes or just until golden brown.

Ingredients
1 1/2 cups whole milk
5 cardamom pods, crushed
5 extra-large egg yolks, room temperature
3/4 cup granulated sugar
3 tablespoons cornstarch
1/2 teaspoon orange blossom water
1 tablespoon Florida grapefruit zest
Pinch Kosher salt
1 tablespoon heavy cream
1 refrigerated pie crust
3 ruby red Florida grapefruit, peeled, white pith removed, cut into segments
Maldon smoked salt, for sprinkling
Instructions
Place milk and cardamom pods in a small saucepan over medium-low heat. Cook, stirring often, until small bubbles form around the circumference of the saucepan. Turn off heat, cover and steep for 20 minutes.
Beat egg yolks and sugar together in a stand mixer at medium-high speed until pale yellow and very thick, about 5 minutes. Turn the speed down to low, then add the cornstarch.
Meanwhile, strain milk into a measuring cup. Stir in orange blossom water and grapefruit zest, along with a pinch of salt. Keeping the mixer on low, slowly pour in the milk mixture, beating until just combined. Transfer the milk mixture to a medium saucepan over medium-low heat. Cook, stirring constantly with a wooden spoon, until it comes to a boil, 5 to 10 minutes. Switch to a whisk; whisk constantly until it has thickened to the texture of pudding. Turn heat off. Stir in heavy cream and then strain into a large bowl. Place plastic wrap on the actual surface of the pastry cream, then refrigerate for at least 3 hours.
Once pastry cream is chilled, pre-heat oven to 425° F. Place pie crust in 9 1/2-inch tart pan. Prick dough evenly with fork to keep it from puffing up in the oven. Bake for about 12 minutes or until the pie crust is just golden brown. Remove from oven and cool.
Just before serving, pour the pastry cream into the tart crust and even out. Decorate with concentric circles of grapefruit segments. Sprinkle with smoked salt and serve immediately.
Source: Florida Department of Citrus