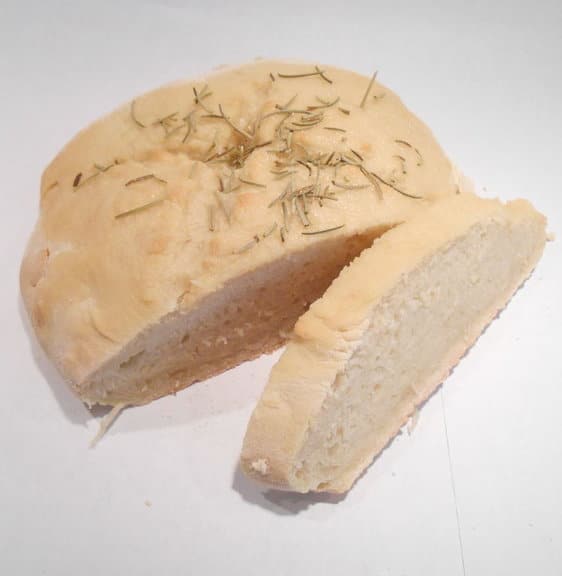 Recipe: Super Easy Rustic Sicilian Quick Bread
Ingredients
1 1/4 cups white bread flour plus extra for dusting the baking sheet and for the kneading process
1 tsp active dry or fast rise yeast
1 tbsp olive oil, plus extra for the top
3/4 + 1/8 cup sparkling water (or 200 ml) You could probably squeeze by with 3/4 as the dough is quite sticky
1/2 tsp salt
Dried or fresh rosemary for topping
Instructions
Preheat your oven to 425°F
Put the flour, salt, and yeast together in a bowl. Add the oil and sparkling water and stir until the dough forms a really sticky ball.
Flour your counter pretty decently as the dough will be quite sticky until you really start working it. Work it for about 10 minutes until the dough becomes a nice ball. You'll have to sprinkle flour on the dough from time to time to keep it from sticking. The dough needs the flour to dry out. Flatten it into a disk about 1 1/2 inches thick and use your kitchen scissors or knife to cut some slits in the top for ventilation. I chose to do an "X". Sprinkle your baking sheet with some flour and place the loaf on it.
Bake in the oven for about 25 minutes. You don't want a brown crust. If you see a brown crust, you've cooked it too long
Let the bread cool for about 10 minutes then brush the top with olive oil and sprinkle with dried rosemary. You can mix rosemary, olive oil, and garlic powder to get a great dipping oil for your new quick bread.
Quick notes
The dough proofs curing the kneading process. You can allow it to proof for an hour or so if you want a lighter, fluffier loaf of bread.
Recipe and Photo Courtesy of garrettg on instructables / CC BY-NC-SA