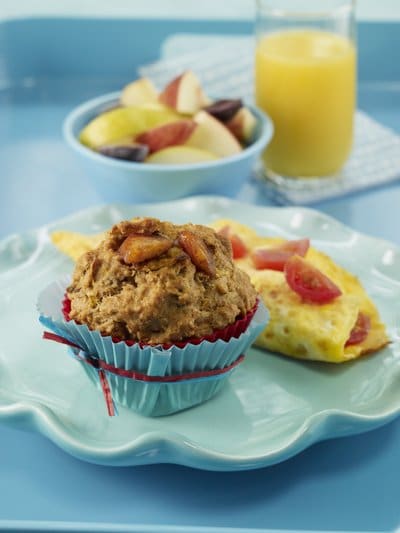 Recipe: Sunshine Peach Muffins
Ingredients
1 cup all-purpose flour
¾ cup whole-wheat flour
1½ tsp. baking powder
½ tsp. baking soda
½ tsp. ground cinnamon
¼ tsp. nutmeg
¼ tsp. salt
2 fresh, very ripe peaches, pit removed, skin left on
2 tsp. honey
1 egg, beaten
½ cup 1% milk
¼ cup vegetable oil
Instructions
Preheat oven to 400° F.
Lightly grease twelve 2½-inch muffin cups or line with paper bake cups; set aside.
In a large bowl combine flour, baking powder, baking soda, cinnamon, nutmeg, and salt. Make a well in center of flour mixture; set aside.
In another bowl mash peaches well with honey, then stir in egg, milk, and oil. Add wet mixture all at once to flour mixture. Stir until moistened (batter should be lumpy).
Spoon batter into prepared muffin cups, filling each about three-fourths full.
Bake for 18-20 minutes or until golden at 400° F.
Cool in muffin cups on a wire rack for 5 minutes. Remove from muffin cups. Cool slightly.
Number of servings (yield): 12 muffins

And as a bonus, we are also sharing the recipe for the omelette shown in the picture
Ingredients:
1 egg

⅛

cup grated cheddar cheese

¼ cup cherry tomatoes, chopped

1 tsp. unsalted butter
Directions:
1. Beat 1 egg until completely mixed. Season with salt and pepper, if desired.
2. Have cheese and tomatoes prepared, set aside.
3. Melt 1 tsp. unsalted butter over medium-high heat in non-stick skillet.
4. When butter stops foaming, add egg mixture, allowing eggs to set on the bottom.
5. As eggs set, take a rubber spatula and push the edges of the egg mixture in, allowing uncooked eggs on top to flow underneath and make contact with the skillet. Repeat procedure as needed.
6. When eggs are set but shiny, add cheddar and tomatoes. Remove omelet from heat. The process should take 2-3 minutes.
7. Fold in half and slide onto warm plate.
Recipes and Photo Courtesy of Produce for Kids