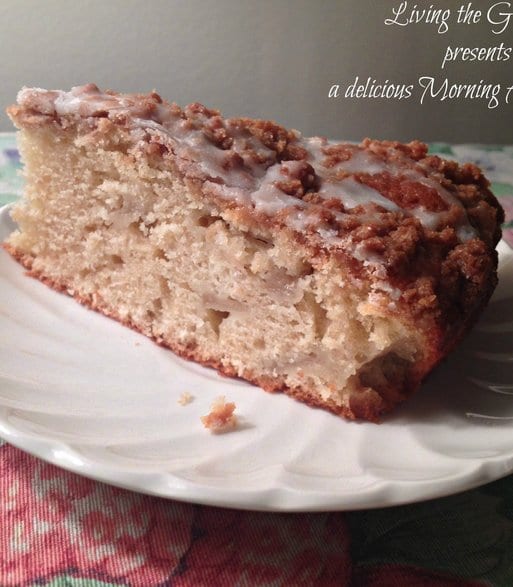 Ingredients
Apples:

2 apples – peeled, cored, and chopped
½ teaspoon ground cinnamon
1 tablespoon brown sugar
1 tablespoon granulated sugar
½ teaspoon vanilla extract

For the cake:

1½ cups all-purpose flour
½ teaspoon baking powder
½ teaspoon baking soda
¼ teaspoon salt
½ cup plus 2 tablespoons granulated sugar
1/3 cup vegetable oil
2 eggs
½ cup sour cream
½ teaspoon vanilla extract

For the crumble:

3 tablespoons butter
¼ cup flour
2 tablespoons brown sugar
1 tablespoon granulated sugar

For the icing:

¼ cup confectioner's sugar
1-2 tablespoons milk
Instructions
Preheat oven to 350 degrees F. Grease a 9-inch cake pan.
In a small bowl, combine apples, cinnamon, sugars and vanilla. Set aside and let sit.
In the bowl of your stand mixer, blend together flour, baking soda, baking powder, salt and sugar. Add oil and beat until a thick batter forms. Add eggs, sour cream and vanilla until the batter becomes smooth.
Fold apples into the batter and pour into prepared cake pan.
In a small bowl, combine all ingredients for crumble. Sprinkle generously over the cake and bake for about 25 minutes or until cake tester comes out clean. Transfer to a wire rack and let cool for about 10 minutes, before transferring to a cake plate otherwise the cake will continue cooking in the pan.
Once completely cool, mix confectioner's sugar and milk. Start with 1 tablespoon of milk. If the icing seems too thick and pasty add more milk as needed. Note that you want the icing just thick enough to set and harden. Drizzle of the cake.
https://stlcooks.com/morning-apple-cake/
Recipe and Photo: Foodista / CC BY