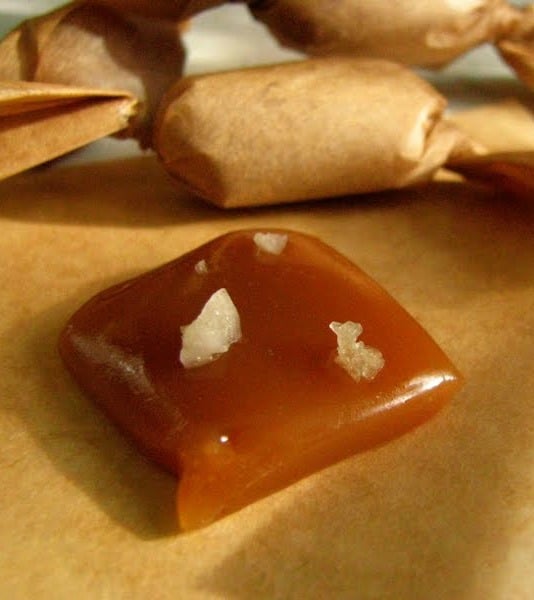 Ingredients
1 cup heavy cream
5 tablespoons unsalted butter, cut into pieces
1/2 tsp vanilla
heavy pinch of kosher salt,
1 1/2 c. raw sugar
1/4 cup light corn syrup
1/4 cup water
Instructions
Line bottom and sides of an 8-inch square baking pan with parchment paper, then lightly butter parchment. I used a 9×9 pan, since that is the only size I have.
Bring cream, butter, vanilla, a pinch of kosher salt to a boil in a small saucepan, then remove from heat and set aside.
Boil sugar, corn syrup, and water in a 3- to 4-quart heavy saucepan, stirring until sugar is dissolved. (Stir only when the mixture is cold to combine, then use the swirling method.) Boil, without stirring but gently swirling pan, until mixture is a light golden caramel.
Carefully stir cream mixture into the caramel (mixture will bubble up) and simmer, stirring frequently, until caramel registers 248 on thermometer. Pour into baking pan and cool 30 minutes. Sprinkle fleur de sel or Celtic sea salt over the top of the caramel for a nice salty crunch and let sit until completely cooled. Cut into 1-inch pieces (I buttered a pizza cutter), and then wrap each piece in a 4-inch square of wax paper, twisting 2 ends to close. I started cutting the caramels after they rested about 45 minutes, and it was still hot. But, I kind of liked wrapping them up into "tootsie roll" shapes. It took me several dozen to figure out the best way to wrap, but now I've got it down!
https://stlcooks.com/soft-caramels/
Recipe and Photo: Cake Walk / CC BY