Jump to recipe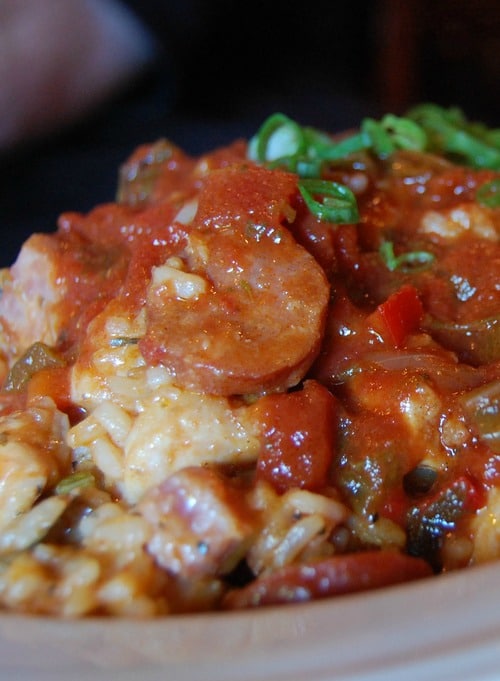 Jumpin Creole Jambalaya

Ingredients
2 fully cooked chicken sausage links (about 6 oz)
One 14.5–oz. can fire-roasted diced tomatoes, no salt added
3/4 cup onion, chopped
1 large green bell pepper, seeded, chopped – I used yellow
1 cup celery, chopped
1 cup low-sodium chicken broth
1/2 cup uncooked brown rice
1 tbsp. garlic, minced
1 tsp. cajun seasoning
1/2 tsp. hot sauce, or more to taste
1/4 tsp. dried oregano
1/4 tsp. dried thyme
6 oz. raw shrimp, tails removed, deveined, chopped
Instructions
Add all ingredients except shrimp to a large pot on the stove. Mix thoroughly. Bring to a boil.
Reduce heat to medium low. Cover and simmer until vegetables are tender and rice is fluffy, about 35 minutes.
Add shrimp and re-cover. Continue to cook until shrimp are tender and cooked through, about 6 minutes.
If you like, season to taste with salt, black pepper, and additional hot sauce. Serve and enjoy!!!
Photo: stu_spivack / CC BY-SA