Jump to recipe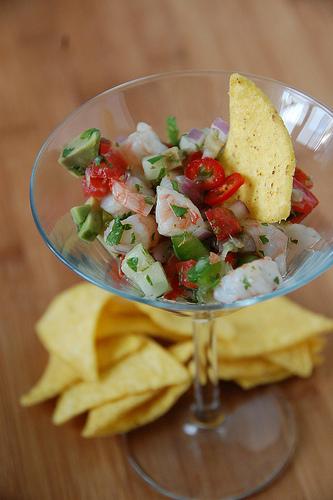 Ingredients
1 Cup raw Shrimp (2 cups of frozen shrimp, once defrosted makes 1 cup)
2 Roma Tomatoes, seeded and diced
1/4 a small Red Onion, diced
1/4 Green Bell Pepper, diced
1 small Avocado, seeded and diced
1/2 Cup diced Cucumber, peeled and seeded
3 Tablespoons minced fresh Cilantro
a few very thin sliced from a spicy Red Chili (about 1/4 of the chili)
juice of 3 Limes
Salt to taste
Tortilla Chips
Instructions
Pour all the lime juice into a large serving bowl.
Bring a pot of water to a boil. Add the shrimp and immediately pour them out into a colander. Quickly rinse them out with cold tap water.
Then, cut the shrimp into small pieces – each medium-sized shrimp can be cut into about 7 little pieces.
Add the shrimp to the lime juice and mix in so that all shrimp is completely covered. Mix every few minutes for the next 20 minutes. The lime juice will "cook" the shrimp with its acidity. When you put the shrimp in the juice it will originally be a light gray in the middle and after the 20 minutes, the gray will have turned white. That is the sign that it is now cooked through.
In the mean while, cut-up all other ingredients. I used a mandolin to get the really thins chili rounds. I went from the bottom up and stopped before the seeds. Once the shrimp has been in the lime juice for 20 minutes, add all other ingredients and mix well. Salt to taste.
Recipe and Photo credit: For the Love of Food / CC BY-NC