Jump to recipe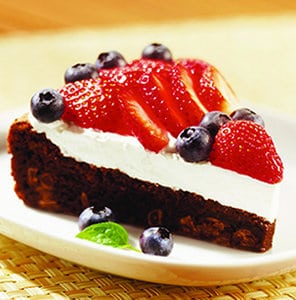 Red White and Blueberry Torte

Ingredients
3/4 cup granulated sugar
6 tablespoons butter or margarine
1 tablespoon water
1 1/2 cups (9-ounces) Nestlé Toll House Semi-Sweet Chocolate Morsels, divided
1 teaspoon vanilla extract, divided
2 large eggs
2/3 cup all-purpose flour
1/4 teaspoon baking soda
1/4 teaspoon salt
1 package (8 ounces) cream cheese, room temperature
2 tablespoons granulated sugar
1/2 of an 8-ounce container frozen light whipped topping, thawed
2 cups sliced strawberries
1/4 cup fresh blueberries
Instructions
PREHEAT oven to 350° F. Line 9-inch-round cake pan with wax paper; grease paper.
COMBINE 3/4 cup sugar, butter and water in small, heavy-duty saucepan. Bring to a boil, stirring constantly; remove from heat. Add 3/4 cup morsels; stir until smooth. Stir in 1/2 teaspoon vanilla extract. Add eggs, one at a time, stirring well after each addition. Add flour, baking soda and salt; stir until well blended. Stir in remaining 3/4 cup morsels. Pour into prepared cake pan.
BAKE for 20 to 25 minutes or until wooden pick inserted in center comes out slightly sticky. Cool in pan for 15 minutes. Invert torte onto wire rack; remove wax paper. Turn right side up; cool completely.
BEAT cream cheese, 2 tablespoons sugar and remaining 1/2 teaspoon vanilla extract in small mixer bowl until creamy. Stir in whipped topping. Spread over torte; top with berries. Refrigerate until ready to serve.
Recipe and Photo Courtesy of Nestlé USA, Inc.