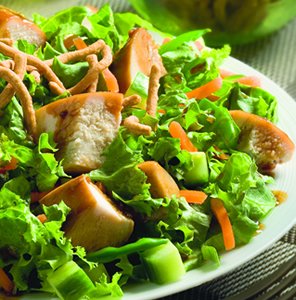 Recipe: Legendary Chinese Chicken Salad
Ingredients
2 boneless, skinless chicken breasts (about 2 pounds)
3/4 cup KC Masterpiece Ginger & Garlic or Honey Teriyaki Marinade
1/4 cup soy sauce
1 head iceberg lettuce (or one 10 ounce bag shredded lettuce)
1/2 cup snow or sugar snap peas
1 cup cucumber, diced
1/2 cup carrots, shredded
3 green onions, sliced
1 cup crispy chow mein noodles
1/2 cup chopped cilantro (optional)
Instructions
For easy clean-up, line an 8×8-inch baking pan with heavy foil. Place chicken breasts in pan. Mix KC Masterpiece Ginger & Garlic Marinade with soy sauce and pour over chicken; allow to stand at room temperature while oven preheats.
Preheat oven to 350° F. Bake chicken 45 minutes, basting frequently, or until chicken is cooked through and nicely browned. Pour off juices from pan into a small container; skim all fat that rises to the top and reserve for use as salad dressing. When chicken is cool enough to handle, cut into chunks. (Chicken and sauce may be prepared in advance to this point; cover and refrigerate until serving time.)
At serving time, arrange lettuce in a large bowl or platter. Scatter snow peas, cucumber, carrots, green onion, chow mein noodles and chicken over lettuce. Spoon reserved dressing over chicken and sprinkle with cilantro, if desired.
Recipe and Photo Courtesy of KC Masterpiece®