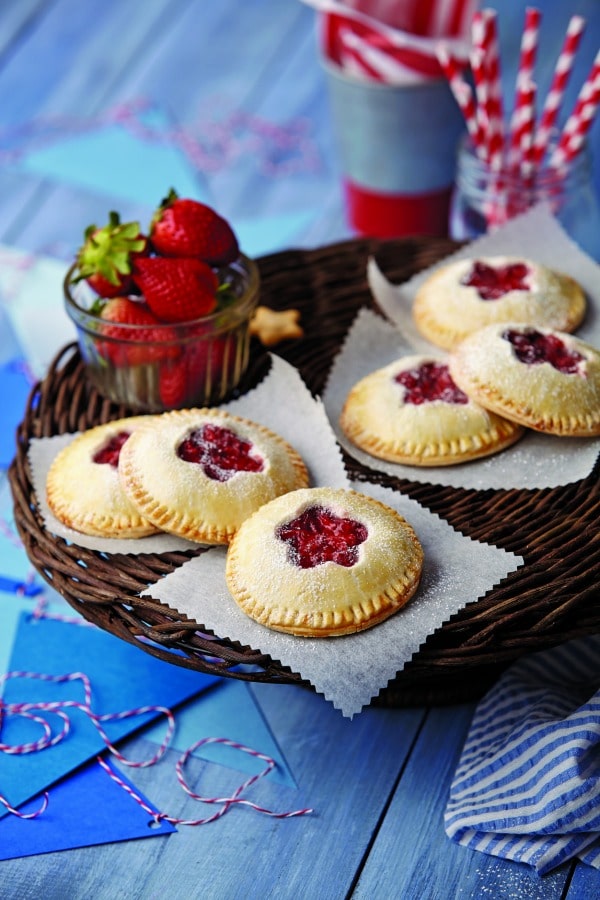 Quick Pickled Strawberry Hand Pies
Ingredients
Combine marinade ingredients in medium bowl and mix well. Place ribs in a large GLAD zipper bag and pour in marinade ensuring ribs are fully covered. Set aside and marinate for 2 hours, or overnight in refrigerator.
Set up two-zone fire for indirect grilling with Kingsford charcoal by situating charcoal on only one side of grill, leaving other side void. Heat to 400°F.
Lightly oil grill. Remove ribs from marinade and dispose of excess liquid. Place ribs, bone side down, over direct heat and cover grill for 6-8 minutes. Then turn ribs and cover for another 6-8 minutes. Continue this process for 45 minutes to an hour or until ribs are tender.
Once tender, move ribs to void side of grill and coat with barbecue sauce. Cover grill for another 6-8 minutes.
Remove ribs from grill and cover with butcher paper or aluminum foil. Let rest for 10-15 minutes. Slice ribs into individual pieces and serve.
Instructions
In small saucepan, stir together vinegar, water, 1 cup sugar, salt and peppercorns. Add thyme sprigs. Cook over medium heat, stirring occasionally, until boiling; let boil 3 minutes. Remove from heat and stir in vanilla.
Pour over cut strawberries, until fully submerged in liquid. Cover and let sit at room temperature 4 to 8 hours.
Preheat oven to 400°F. Line cookie pan with parchment paper. Strain strawberries from pickling liquid and discard peppercorns and thyme.
Toss berries with cornstarch until evenly coated. In small bowl, whisk egg with 1 tablespoon water until smooth. Unroll pie crusts and cut with 3 1/2-inch round cutter.
Each crust yields 8 rounds. To assemble pies, top half of rounds with about 3 tablespoons of berry mixture each. Brush edges of rounds with egg wash.
Cut out a hole or pierce remaining rounds with fork. Place on top of berries. Using a fork, press edges of crusts together tightly to seal. Transfer to prepared cookie pan. Brush tops of pies with egg wash and sprinkle with granulated sugar. Bake 18 to 22 minutes, or until pies are lightly golden and filling is bubbling. Cool slightly before serving.
https://stlcooks.com/quick-pickled-strawberry-hand-pies/
Source: Wilton