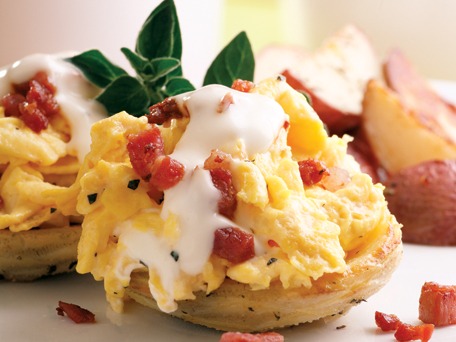 Artichoke Scrambled Eggs Benedict
Ingredients
8 canned artichoke bottoms (1 1/2 cans), rinsed (see Shopping Tip)
4 teaspoons extra-virgin olive oil, divided
3 teaspoons chopped fresh oregano, divided, plus 4 sprigs for garnish
1/3 cup chopped pancetta
2 tablespoons reduced-fat mayonnaise
2 tablespoons nonfat plain yogurt
2 teaspoons lemon juice
1 teaspoon water
6 large eggs
4 large egg whites
2 tablespoons reduced-fat cream cheese (Neufchâtel)
1/4 teaspoon salt
Instructions
Preheat oven to 425°F.
Toss artichoke bottoms with 2 teaspoons oil and 2 teaspoons oregano. Place them top-side down on half of a large baking sheet. Spread pancetta in an even layer on the other half. Roast until the artichokes are just beginning to brown and the pancetta is crispy, 12 to 14 minutes.
Meanwhile, whisk mayonnaise, yogurt, lemon juice and water in a small bowl until smooth. Beat eggs and egg whites in a large bowl.
Heat the remaining 2 teaspoons oil in a large nonstick skillet over medium-high heat. Add the eggs and cook, folding and stirring frequently with a heatproof rubber spatula until almost set, about 2 minutes. Remove from the heat and fold in cream cheese, the remaining 1 teaspoon oregano and salt.
To serve, divide the artichoke bottoms among 4 plates. Top each artichoke with equal portions scrambled egg, crispy pancetta and creamy lemon sauce. Garnish with oregano sprigs, if desired.
Notes
Artichoke bottoms can be purchased in 14-ounce cans found near other canned vegetables. If unavailable, substitute two 14-ounce cans rinsed and halved artichoke hearts.
https://stlcooks.com/artichoke-scrambled-eggs-benedict/
Recipe and Photo: Best Dishes! / CC BY