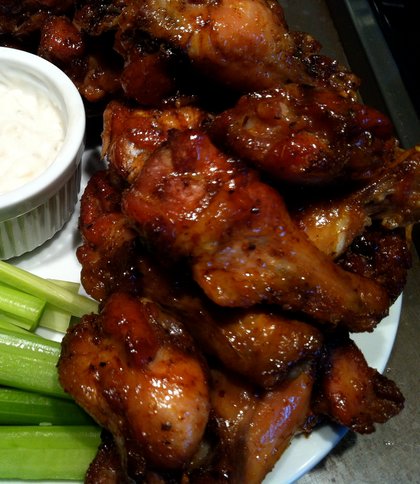 Game Day Hot Chicken Wings
Ingredients
3 1/3 pounds organic chicken drummettes
2 tablespoons taco seasoning
2 tablespoons brown sugar
1 tablespoon kosher salt
2 teaspoons ground cumin
1 teaspoon garlic powder
Honey
Tabasco Sauce

For the "Ranch" Dip:

3 tablespoons gluten free, vegan chive & garlic cream cheese (Galaxy Nutritional Foods brand, at health food stores)
2 tablespoons plain coconut yogurt
Instructions
For the Chicken Wing Drummettes:

Add chicken into a large glass or stainless steel bowl, toss all the seasonings and brown sugar over the chicken.
Cover with plastic wrap and refrigerate for an hour or two.
Preheat the oven temperature to 400 degrees F.
Place all the seasoned chicken onto a parchment lined baking sheet spread out so that they don't touch. If you are doubling the recipe use two pans.
Bake for 35 minutes.
In a large bowl, add about 2 tablespoons of honey (or more if you like) and a few splashes of tabasco sauce (less or more to your liking).
Add the chicken, if it feels to hot to toss, wait a few minutes or use two spoons to coat the chicken. Serve hot or warm.

To prepare "Ranch" Dip:

Add to a small bowl and mix well.
Serve chilled with celery sticks and chicken wings.
https://stlcooks.com/game-day-hot-chicken-wings/
Recipe and Photo: Foodista / CC BY