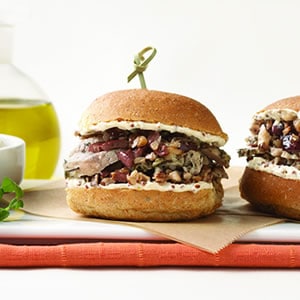 Pork and Mushroom Sliders
Ingredients
1/4 cup sour cream
2 tablespoons coarse ground mustard
5 tablespoons extra virgin olive oil, divided
2 large cloves garlic, divided and minced
1 1/2 teaspoons dried thyme leaves, divided
1 pound pork tenderloin, trimmed
4 cups finely chopped shiitake mushrooms
1/2 cup chopped ripe olives
1/4 cup finely chopped shallots
12 small rolls, split (warmed, if desired)
Instructions
Heat oven to 400°F.
Blend sour cream and mustard in small bowl; cover and refrigerate.
Combine 2 tablespoons olive oil, 1 clove garlic and 1 teaspoon thyme leaves in mini chopper or finely chop garlic and blend mixture in bowl with fork, mashing garlic.
Rub pork with garlic mixture; place in shallow baking pan and roast 25 minutes or until internal temperature is 160°F. Remove from oven; let stand at least 10 minutes.
Meanwhile, heat remaining 3 tablespoons olive oil in large skillet over medium-high heat. Add 1 clove garlic; cook and stir 30 seconds or until fragrant but not browned. Add mushrooms, olives, shallots and remaining 1/2 teaspoon thyme leaves. Cook and stir 5 minutes or until mushrooms are tender. Remove from heat; set aside.
Thinly slice tenderloin diagonally across grain. Spread each cut side of rolls with mustard mixture. Spoon half of mushroom mixture (about 2 tablespoons) on bottom of each roll. Top rolls evenly with sliced pork and remaining mushroom mixture. Cover with top halves of rolls. Serve on coated sandwich wraps or bakery sheets if desired.
https://stlcooks.com/pork-and-mushroom-sliders/
Source: International Olive Council