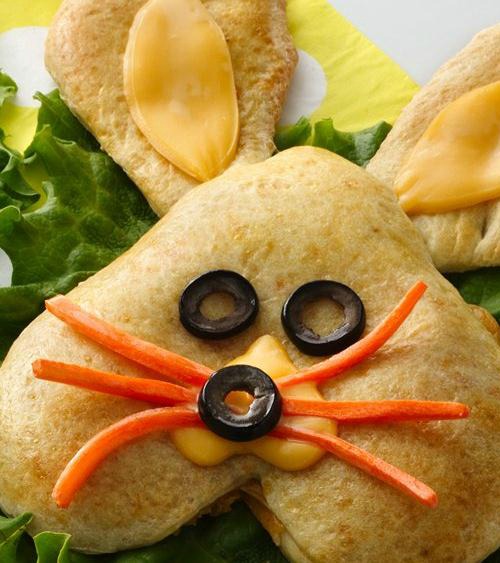 Ingredients
1 can (13.8 oz) Pillsbury® refrigerated classic pizza crust
4 teaspoons pizza sauce
20 mini pepperoni slices
2 slices American cheese
1 egg
3 olives, thinly sliced into 3 equal slices
12 matchstick-cut carrots
Instructions
Heat oven to 400°F. Unroll pizza crust on work surface. Press into 11×16-inch rectangle. Use 5-inch heart-shaped cookie cutter to cut 6 heart shapes (discard remaining dough). Place 2 hearts on ungreased cookie sheet. Spread pizza sauce to within 1/2 inch of edge; top with pepperoni and half a slice of cheese on crust. Place a second heart shape over the pizza filling on each. Pinch edges to seal. Cut each of the remaining 2 hearts in half to make the bunny ears. Place on cookie sheet and tuck pointed ends under the smaller end of the heart.
In small bowl, beat egg and 1 tablespoon water. Brush over crust. Bake 11 to 15 minutes or until crust is golden brown.
Meanwhile, cut remaining cheese to make bunny ears and nose. Place cheese decorations, olives and carrots on face. Serve immediately.
Notes
You can change the fillings to include sausage, vegetables, or just plain cheese.
https://stlcooks.com/pizza-pocket-bunnies/
Recipe and Photo: Foodista / CC BY