Jump to recipe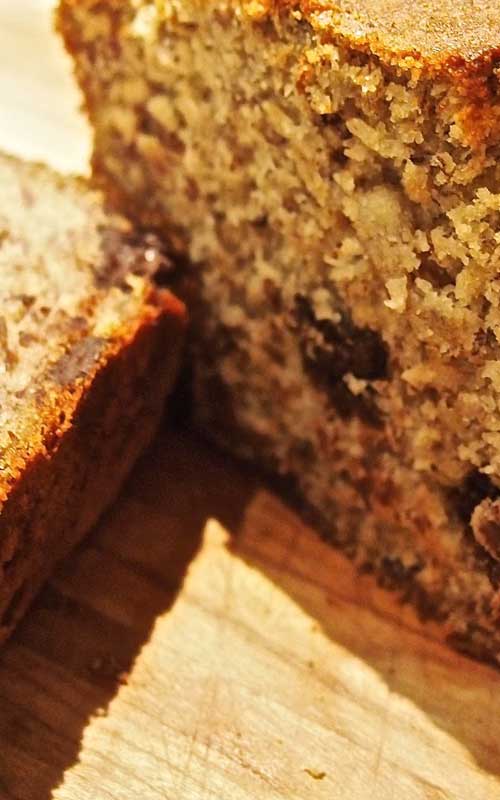 Recipe for Healthy Gluten-Free Banana Bread – This has gotten really good reviews from the family. Not too sweet, and healthy. A winner all-around!
Healthy Gluten-Free Banana Bread

Ingredients
4 ripe bananas
1 egg
1tbsp (15ml) of pure vanilla extract
1/4 cup (60ml) of pure maple syrup
1/4 cup (60ml) of melted coconut oil
1/3 (120ml) cup of plain yogurt
1 cup of brown rice flour
1/2 cup of corn starch
1tsp of baking powder
1tsp of baking soda
pinch of salt
large handful of chopped walnuts
large handful of 70% chocolate chopped (the chocolate is optional but helps add a little sweetness – if you don't add the chocolate, you may want to increase the maple syrup to 1/2 cup – 120ml).
Instructions
Preheat oven to 350°F (180°C);
Mash the bananas in a large bowl;
Add the egg (1), pure vanilla extract (1tbsp – 15ml), maple syrup (1/4 cup – 60ml), melted coconut oil (1/4 cup – 60ml) and yogurt (1/3 cup – 80ml) and blend together well;
In a separate bowl, mix the brown rice flour (1 cup – g), corn starch (1/2 cup – g), baking powder (1tsp), baking soda (1tsp) and salt. Whisk together to sift and combine;
Add the dry ingredients to the wet ingredients and blend together;
Stir in walnuts and chocolate pieces;
Coat a loaf pan with some of the melted coconut oil to prevent sticking;
Pour in the batter and cook until a toothpick inserted in the center comes out clean (about 50 minutes);
Cool and enjoy! – can be frozen to enjoy later.
Recipe and Photo: EpiCurious Generations/ CC BY-ND