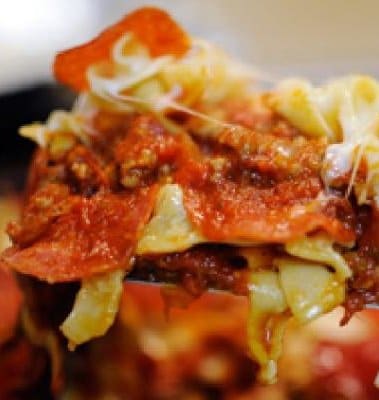 Ingredients
1 pound ground beef
1 pound ground sausage
2 cups noodles (I used egg noodles)
2 cans tomato paste + 1 tomato paste can of water
4 tablespoons Italian Seasoning
2 4 ounce cans mushroom stems and pieces, drained
1/2 cup chopped onion
1/2 cup chopped green bell pepper
1 clove garlic, minced
2 cups shredded mozzarella cheese
2 cups Parmesan cheese
2 ounces pkgs. (3 ounces each) sliced pepperoni
Instructions
Brown beef and sausage.
Boil pasta at the same time.
While waiting for those to cook, mix remaining ingredients, except for the cheeses and pepperoni, in the slow cooker.
Be sure to drain all the fat off the meat, then mix in the sauce.
Drain pasta and stir in.
Top the casserole with cheese and pepperoni.
Cook on LOW for 3 hours or HIGH for 1.
https://stlcooks.com/pizza-casserole/
Recipe and Photo: Foodista / CC BY