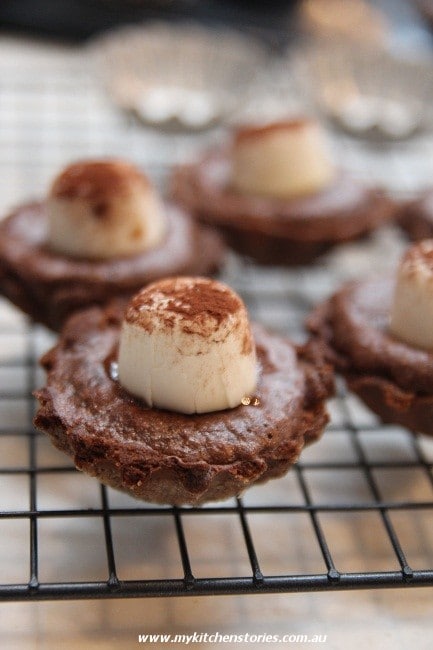 Chocolate and Salted Caramel Tarts
Ingredients
Chocolate Pastry

250 gm icing sugar(8.8oz)(powdered sugar)
30 gm cocoa powder, unsweetened (1/4 cup)
450 gm soft butter (15.87oz)
3 eggs (70gm, large)
100gm almond meal ( 1/2 cup)
780 gm plain flour ( 1.720lb)

Salted Caramel

250gm caster sugar(superfine)8.8oz
100ml thickened (heavy) cream (3.4oz)
150 gm unsalted butter chilled cubed (5.28oz)
1-1.5 teaspoon flaked sea salt
2 Tablespoons water mixed with 1/2 tsp lemon juice

Chocolate Mousse

150 gm (5.28oz) dark chocolate 50-70 %
100 gm (3.5oz) unsalted butter, chopped
1 egg
1 yolk
60 gm (2.11oz) caster sugar
Instructions
Chocolate Pastry

Beat the butter and powdered sugar until light. Add the eggs and mix well. Add the sifted flour and cocoa and mix till just combined. Turn on to a bench and push together into a disk. This pastry is very soft and needs to be chilled till firm. Take it out of the fridge and leave till just softening. You will need to work quickly and flour the bench well. Alternatively use baking paper to help roll it out thinly as possible. If holes form it can be pushed together to cover, but do this well, over lapping and keeping it chilled and thin. Roll out, lining 12 – 18 small or 6 medium individual tart tins ( yes you can make 1 medium sized one). Rest again in the refrigerator 15 minutes. Blind bake till golden. Cool .

Salted Caramel

Put the sugar into a heavy saucepan along with the water and lemon juice. Swirl the pan to coat the sugar completely. ( try not to stir the sugar, it will encourage crystalization). Put the pan onto medium heat and watch, only swirling occasionally until it starts to colour. Watch it carefully from here. Let it get deep dark golden brown then take off the heat. Carefully add the cream and whisk to combine. The cream will bubble up, before subsiding . Be very careful of the steam and the heat in the sugar syrup. Add 1 teaspoon of the salt and whisk to combine. Now add the butter a few cubes at a time, whisking it into the caramel. Once all of the butter is incorporated test for salt again. It will take up to another 1/2 a teaspoon but add to your taste. Put into a container and cool. (best straight from the fridge for this recipe).

Chocolate Mousse

Melt the butter and chocolate together and set aside while you beat yolk, egg and sugar till light and creamy ( I use the stand mixer). This lightness gives the mixture its moussey lightness so beat it till white and fluffy. Fold the two mixtures together till combined.

Assembly

Put a 1/2 teaspoon of ( chilled)caramel into the bottom of each tart case, spreading well. Spoon chocolate mousse onto each tart till 3/4 full.
Put the tarts onto a tray and bake at 160 ( 320 F) degrees for 10-12 minutes. The tarts should still be soft .
Cool and dust with cocoa and place a 1/2 marshmallow on top.
https://stlcooks.com/chocolate-and-salted-caramel-tarts/
Recipe and Photo: My Kitchen Stories / CC BY-SA