Jump to recipe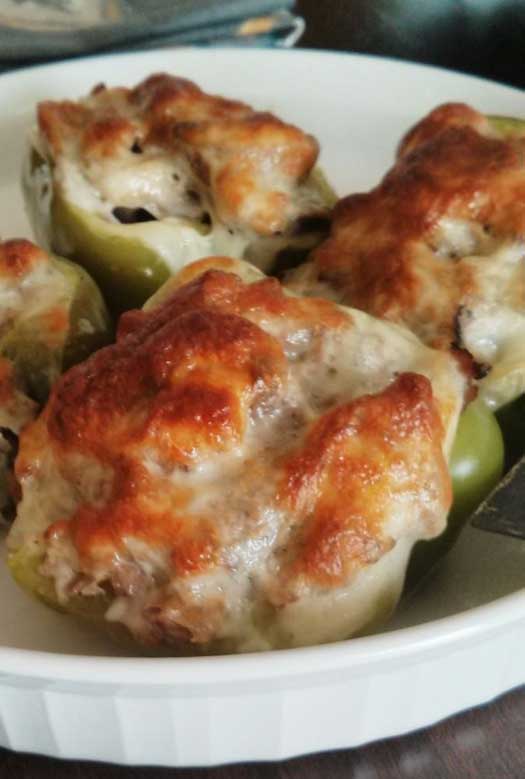 I came across a recipe so glorious last Fall and it has since became my go-to dinner. Say hello to the amazing Philly Cheesesteak Stuffed Peppers!
Philly Cheesesteak Stuffed Peppers

Ingredients
16 oz. Thinly Sliced Roast Beef
16 Slices Provolone Cheese
3 Large Green Bell Peppers
1 Medium Sweet Onion – Sliced
12 oz. Baby Bella Mushrooms – Sliced
2 Tbs. Butter
2 Tbs. Olive Oil
2 Tbs. Garlic – Minced
Salt and Pepper – to taste
Instructions
Preheat oven to 400°.
Slice the peppers in half lengthwise and remove ribs and seeds.
Add butter, olive oil, garlic, mushrooms, onions and salt and pepper to a large sauté pan and cook over low-medium heat.
Sauté until onions and mushroom are tender (approximately 30 minutes).
Slice roast beef into thin strips and add to the onion & mushroom mixture. Cook for 3-5 minutes until heated through.
Line the inside of each pepper with a slice of cheese and fill with the meat mixture and top with another slice of cheese.
Bake for 15-20 minutes until the cheese on top is golden brown.
Recipe and Photo: Regarding Nannies / CC BY-ND