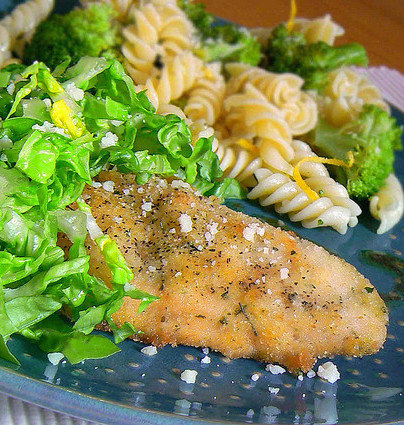 Parmesan Crusted Chicken with Broccoli and Fusilli
Ingredients
1/2 pound (200 grams) fresh greens of choice, washed and thinly sliced (I used baby romaines this time)
1/4 cup fresh squeezed lemon juice (2 lemons)
1/2 cup extra virgin olive oil
1/2 teaspoon sea salt
1/4 teaspoon freshly ground black pepper
1/4 pound (100 grams) freshly grated parmiggiano-reggiano
2 pounds (1 kilo) thin chicken fillets
2 large eggs plus 2 tablespoons water
1 1/4 cup seasoned bread crumbs
1/2 cup freshly grated parmiggiano-reggiano cheese
1/4 cup light olive oil for frying

Broccoli and Pasta

1/2 pound (200 grams) fusilli
1 head broccoli, cut into florets
2 tablespoons butter
2 tablespoons olive oil
4-5 cloves garlic, minced
zest of 1 lemon
1/2 teaspoon fresh ground black pepper
juice from 1 lemon
1/4 cup toasted pine nuts
1-2 teaspoon kosher salt
freshly grated parmiggiano-reggiano cheese
Instructions
Prepare your greens first, and set aside.
Whisk together lemon juice, extra virgin olive oil, salt and pepper and reserve (this is your vinaigrette).
Prepare your chicken "station."
Beat eggs and water in a deep plate.
In another deep plate, combine seasoned bread crumbs, parm, salt and pepper.
Dip chicken in egg first, then in bread crumb/parm mixture.
Set aside on a plate.
Repeat with remaining chicken fillets.
Heat olive oil in a large skillet.
Cook the chicken for 3-4 minutes on one side, depending on thickness, then turn and do the same (3-4 minutes) on second side until no longer pink and nicely golden brown.
Plate the chicken, then place a a bit of greens over each chicken breast.
Dress with lemon pepper vinaigrette and top with extra freshly grated parm.

Broccoli and Pasta

Cook pasta according to package directions.
Drain.
Meanwhile, bring broccoli to a boil in salted water and cook until tender, about 5 minutes.
Drain and set aside.
While your pasta and broccoli are cooking, heat butter and oil in a small sauce pan and saute garlic until golden.
Add lemon zest and stir.
Remove from heat.
Add the pepper and lemon juice and stir well.
Pour this over the broccoli and pasta.
Add pine nuts and freshly grated parm to taste (I use a generous half cup or so).
Toss well.
https://stlcooks.com/parmesan-crusted-chicken-with-broccoli-and-fusilli/
Recipe and Photo: Canarygirl