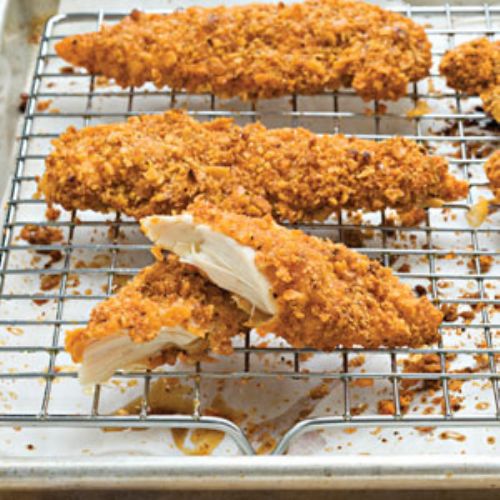 Recipe: Pecan-Crusted Chicken Tenders
Ingredients
16 saltine crackers, finely crushed
1/4 cup pecans, ground
2 teaspoons paprika
1/2 teaspoon salt
1/2 teaspoon pepper
1 egg white
Vegetable cooking spray
1 1/2 pounds chicken breasts cut into strips
1/4 cup all-purpose flour
Instructions
Preheat oven to 425°. Stir together crushed crackers and next 4 ingredients.2. Whisk egg white just until foamy.
Place a wire rack coated with cooking spray in a parchment paper-lined 15- x 10-inch cookie sheet/jelly-roll pan.
Dredge chicken breast strips in flour; dip in egg white, and dredge in saltine mixture. Lightly coat chicken on each side with cooking spray; arrange chicken on wire rack.
Bake at 425° for 18 to 20 minutes or until golden brown, turning once after 12 minutes.
Recipe and Photo: Make Life Delicious / CC BY-SA