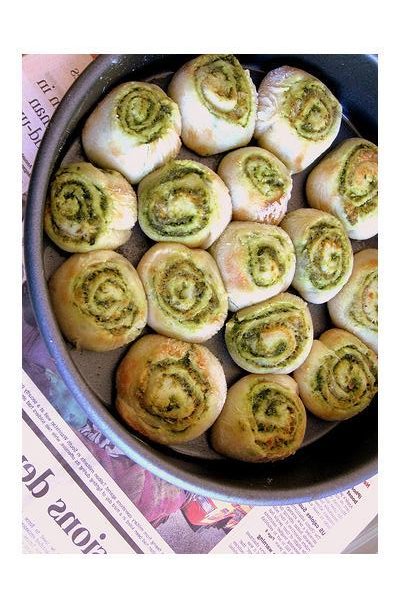 Recipe: Pesto Rolls
Ingredients
For the dough:
1 cup + ⅛ cup all purpose flour
1/2 teaspoon active dry yeast
1/8 cup olive oil
1/2 cup warm water
1/2 teaspoon salt
1/2 teaspoon sugar
1/8 teaspoon baking powder
1/8 teaspoon baking soda
For the pesto:
2 cloves roasted garlic
1 cup arugula leaves
1 cup basil leaves
1/4 cup pine nuts, roasted
1/4 cup grated parmesan
1/4 cup olive oil
salt to taste
pepper and parmesan for assembly as needed
Instructions
In a bowl, soak the yeast in warm water and set aside for a couple of minutes.
Whisk in the oil, salt and sugar. Mix in a cup of flour. The dough will be very sticky, don't worry.
Set the dough in warm place to rise and double for an hour.
Sift together the rest of the flour, baking soda and powder and mix into the dough to form a pliable and soft dough which is very elastic.
If the dough is too sticky, add a little more flour.
Dump onto a lightly floured surface, cover with bowl and let it sit for a minute or two.
Meanwhile make the pesto by grinding together all the ingedrients. I usually eyeball measures, so use more or less of the ingredients as per your taste.
Roll out the dough into a rough rectangle. Go as thin as you can without tearing.
Generously spread the pesto paste leaving a small 1/2 inch border.
Sprinkle pepper and more parmesan all over.
Roll in the dough along the length as tightly as you can to form a log.
Finish off by sealing the seam with a brush of oil.
Cut inch thick pieces of the log and place in a oil pan.
Leave about half inch between the pieces.
Place in a warm spot and let it rise for 30 minutes.
Bake in an oven preheated to 400 degrees for 20 minutes, until the crust is light golden.
Recipe and Photo: Foodista / CC BY