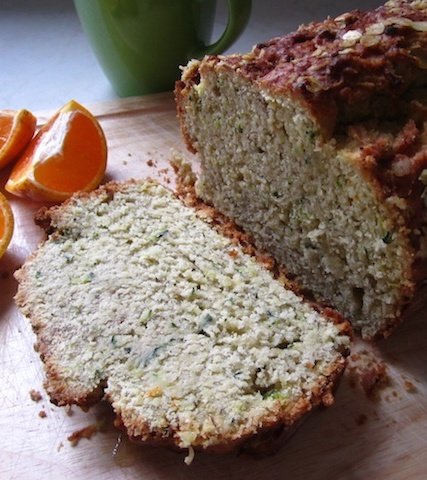 Ingredients
2 cups unpeeled shredded zucchini (about 2 of medium size)
3 large eggs
1 cup vegetable oil of any kind
1 cup sugar
3 cups all-purpose flour
1 tablespoon vanilla
1 teaspoon salt
1 teaspoon baking soda
1/4 teaspoon baking powder
1 teaspoon nutmeg
1 teaspoon cinnamon
2 tablespoons orange zest
3/4 cup freshly squeezed orange juice (about 3 medium oranges)
Instructions
Preheat oven to 350° F / 176° C. Grease and lightly flour one loaf pan.
With an electric mixer (or a fork and elbow grease), beat eggs in a large bowl until light-colored and foamy. Add oil and sugar. Beat at least 3 minutes on medium-high speed of mixer/elbow until very light and lemon-colored. Add vanilla, zucchini, orange zest, and orange juice. Mix lightly but thoroughly.
Into a bowl, sift or stir together flour, salt, baking soda, baking powder, cinnamon, and nutmeg. Gradually stir flour mixture into egg mixture, mixing lightly but thoroughly. Pour into loaf pan.
Bake on center rack 45-55 minutes or until tooth pick or knife inserted in center comes out clean (depending on the size of your loaf pan, you may need to bake it on the longer side. I baked mine for closer to 60 minutes).
Cool in pan for 10 minutes. Turn out of pan and cool completely on a drying rack before wrapping in foil and storing in the refrigerator (or eat some/all of it while it's still oven-warm!).
https://stlcooks.com/orange-zucchini-bread/
Recipe and Photo: The Patron Saint of Pie / CC BY