Jump to recipe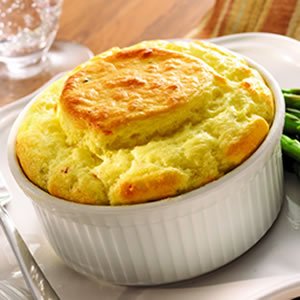 Pepper Jack Cheese Souffle

Ingredients
4 tablespoons butter
1/4 cup all-purpose flour
1 1/4 cup whole milk
2 cups Pepper Jack Cheese
5 large eggs, separated
1 egg white
1 tablespoon black pepper
Instructions
In a small saucepan, melt butter and stir in flour until smooth; gradually add milk. Cook, stirring constantly; bring to a boil. Reduce heat to simmer for 2 minutes while stirring frequently. Remove from heat and stir in cheese until melted.
In a large bowl, whisk egg yolks and gradually add cheese mixture. Whisk until smooth. Set aside.
Preheat oven to 325°F. Lightly butter a 6-cup soufflé dish and dust with flour. In a separate bowl, whip egg whites until stiff peaks form. Gently fold egg whites into yolk mixture, 1/3 of beaten whites at a time. Pour egg mixture into dish; it will be 1/2 to 2/3 full.
Bake 45 minutes until puffy and golden. Serve immediately.
Recipe and Photo: Sargento