Jump to recipe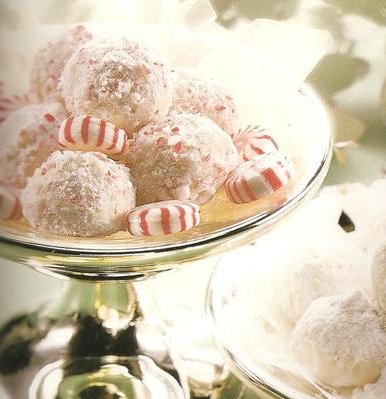 Peppermint Snowballs

Ingredients
1 cup butter or margarine
1/2 cup powdered sugar
1 teaspoon vanilla
2 1/4 cups all-purpose flour
1/4 teaspoon salt
3/4 cup hard peppermint candies, crushed
Powdered sugar for rolling
Instructions
Heat oven to 400 degrees. Beat butter, ½ C powdered sugar and the vanilla in a large bowl with electric mixer on medium speed.Mix ¼ C of the crushed peppermint candies in with the flour and salt,& save the remaining candies. Stir in the flour mixture.
Shape dough into 1 inch balls. Place about 2 inches apart on an ungreased cookie sheet.
Bake 8-9 minutes or until set but not brown. Immediately remove from the cookie sheet; roll in powdered sugar. Wait 10 minutes then roll in the remaining candy. Reroll if desired.
Recipe and Photo: Foodista / CC BY