Jump to recipe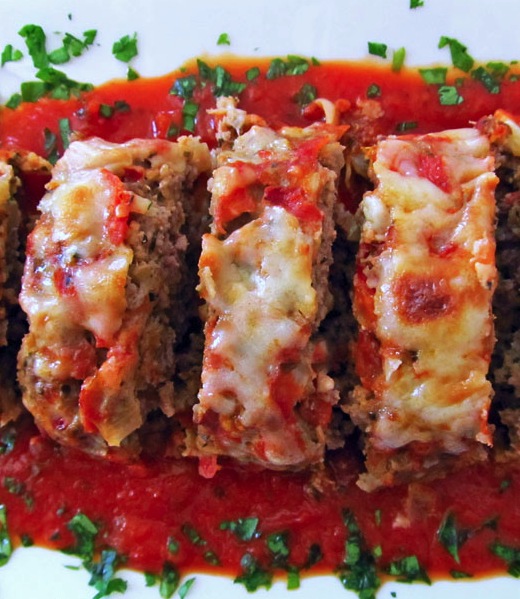 Mozzarella Meat Loaf

Ingredients
1 large onion, coarsely chopped
1 tbsp olive oil
1 sweet red pepper, chopped
1 clove garlic, finely chopped
1 tsp leaf basil, crumbled
½ tsp leaf thyme, crumbled
1½ lbs lean ground beef
½ lbs ground pork
1 cup old-fashioned oats, uncooked
2 egg whites
4 oz part-skim mozzarella cheese cut in ¼-inch cubes
½ cup grated Parmesan cheese
2 tbsp parsley, chopped
¾ tsp salt, optional
? tsp pepper
¼ cup catsup
Instructions
Preheat oven to moderate (375°F).
Line jelly-roll pan with aluminum foil.
Saute onion in oil in large skillet over medium heat 3 minutes.
Add red pepper, garlic, basil, and thyme, saute 5 minutes.
Combine beef, pork, oats, egg, whites, mozzarella, Parmesan, parsley, optional salt, and pepper in large bowl.
Add vegetable mixture.
Shape into large oval on prepared pan.
Bake in moderate oven (375°F) for 30 minutes.
Brush loaf with catsup.
Bake 25 minutes or until cooked through.
Let stand 10 minute before slicing.
Recipe and Photo: recipes.wikia.com / CC BY-SA