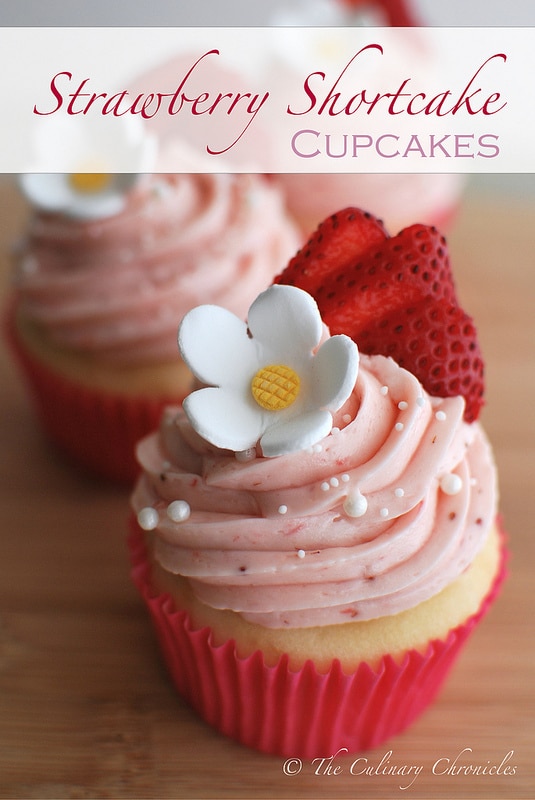 Strawberry Shortcake Cupcakes
Ingredients
Filling:

2 cups fresh strawberries, roughly chopped
¼ cup sugar
1 tablespoon cornstarch
1 tablespoon lemon juice
¼ cup water
2 pinches of salt
Batter:

2¼ cups cake flour
1 tablespoon baking powder
½ teaspoon salt
1¼ cups buttermilk
4 large egg whites, at room temperature
1½ cups sugar
½ cup unsalted butter, at room temperature
1 vanilla bean, split and scraped
1 teaspoon vanilla extract
Strawberry Swiss Meringue Buttercream (from Martha Stewart):

4 large egg whites, room temperature
1¼ cups sugar
1½ cups unsalted butter, softened, cut into small pieces
1½ cups fresh strawberries, pureed
Garnish:

fresh strawberry slices
sprinkles, nonpareils, etc.
---
Instructions
Prepare the filling. Place the strawberries and sugar in a small pot and cook over medium low heat until the juices begin to release. In a small bowl, whisk together the cornstarch, water and lemon juice. Add the mixture to the strawberries and stir in to combine. Continue cooking and stirring the strawberries until it's thickened to the consistency of a jam. Remove from the heat and stir in the salt. Allow to cool completely.
In a bowl, sift together the cake flour, baking powder and salt. Whisk together the buttermilk and egg whites in another bowl. Put the sugar and butter in the bowl of a stand mixer. With the paddle attachment, beat at medium speed until ingredients are light and fluffy. Beat in the vanilla extract, vanilla bean seeds, then add one third of the flour mixture, still beating on medium speed. Mix in half of the milk-egg mixture, then beat in half of the remaining dry ingredients until incorporated. Add the rest of the milk and eggs, mixing until the batter is well mixed, then add the last of the dry ingredients. Continue beating the mixture for another few minutes to ensure that the batter is thoroughly mixed. Divide the batter evenly between the prepared liners, filling each about ¾ full. Bake for 18-22 minutes, or until the cupcakes are well risen and springy to the touch and a toothpick inserted in the center comes out clean. Allow to cool in the pans for five minutes, and then transfer the cupcakes to a wire rack to cool completely.
While the cupcakes are cooling, prepare the buttercream. Place whites and sugar in a heatproof mixer bowl set over a pot of simmering water. Whisk until sugar dissolves and mixture registers 160 degrees on a candy thermometer. Remove from heat, and attach bowl to a mixer. Whisk on medium speed for 5 minutes. Increase speed to medium-high, and whisk until stiff, glossy peaks form, about 6 minutes. Reduce speed to medium, and add butter, 1 piece at a time, whisking well after each addition. Switch to a paddle attachment. With mixer on low, add strawberry puree, and beat until smooth, 3 to 5 minutes.
Begin assembling the cupcakes. Using a pairing knife, piping tip, apple corer, or very small round cookie cutter (I used a small biscuit ring), cut out a small cavity in the cupcake. Take a pairing knife to help pop out the center. Fill each of the cupcakes with a heaping teaspoonful of the strawberry compote. Replace the small piece of cake to cover the filled centers.
Fit a piping bag with a decorative tip and fill with the buttercream. Top each of the cupcakes with large swirls of buttercream and adorn with berry slices, sprinkles or other decorative pieces.
https://stlcooks.com/strawberry-shortcake-cupcakes/