Jump to recipe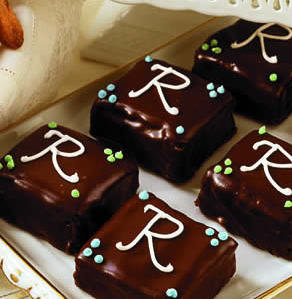 Monogrammed Mini Chocolate Cakes

Ingredients
1/2 cup (1 stick) butter or margarine
1/2 cup water
3 tablespoons Hershey's Cocoa
1 cup all-purpose flour
1 cup sugar
1/2 teaspoon baking soda
1/4 teaspoon salt
1 egg
1/3 cup dairy sour cream
Cocoa Glaze (recipe follows)
Decorating icing in tube, desired color
Instructions
Heat oven to 350°F. Line 13x9x2-inch baking pan with parchment paper or waxed paper.
Combine butter, water and cocoa in small saucepan. Cook over medium heat, stirring constantly, until mixture boils; remove from heat. Stir together flour, sugar, baking soda and salt in medium bowl. Stir in hot cocoa mixture. Add egg and sour cream; beat on medium speed of mixer until well blended. Pour batter into prepared pan.
Bake 20 to 22 minutes or until wooden pick inserted in center comes out clean. Cool 10 minutes. Remove from pan to wire rack; carefully remove parchment or waxed paper. Cool completely.
Cut cake into small pieces, each about 2×1-3/4 inches. (Cake will be easier to cut if frozen for several hours or up to several days.) Place on cooling rack. Prepare COCOA GLAZE. Spoon over top of each piece of cake, allowing glaze to run down sides. Allow glaze to set. Garnish with monogram, using decorating icing. Place in foil cup, if desired.
Cocoa Glaze: Bring 1/2 cup water and 1/4 cup (1/2 stick) butter to boil in small saucepan. Stir in 1/2 cup Hershey's Cocoa. Remove from heat; cool slightly. Gradually add 3 cups powdered sugar, stirring with whisk until smooth. Stir in 2 teaspoons vanilla extract. About 1-1/2 cups glaze.
Recipe and Photo Courtesy of Hershey's