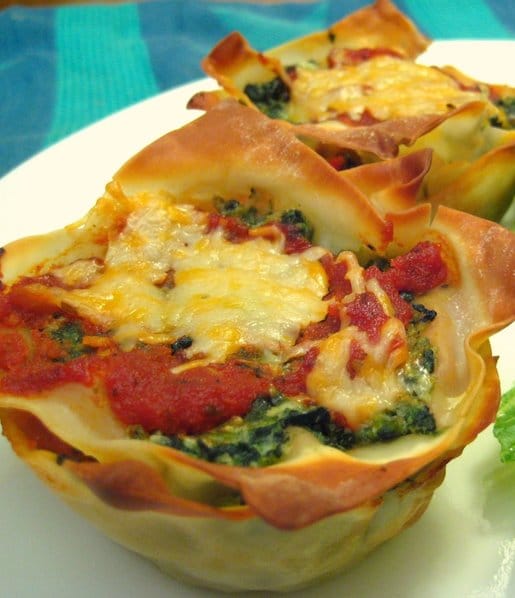 Ingredients
24-36 mini wonton wrappers (depends on the depth of the wells in tray)
2 tbsp. butter or margarine, melted
1-2 tbsp. oil
1 onion, peeled and chopped
1-2 cloves garlic, minced
1/2 zucchini, chopped
4-5 mushrooms, chopped
1/2 red bell pepper, chopped
1 box frozen chopped spinach, defrosted
1 cup ricotta cheese
2-3 tbsp. pesto sauce
1 cup tomato pasta sauce
1/4 cup grated cheese, to garnish
1 tsp. dried oregano
1 tsp. dried basil
salt and pepper
Instructions
In a frying pan, heat oil. Saute onions and garlic until translucent. Add zucchini, peppers and mushrooms, and stir fry for 4-5 minutes. Set aside and cool.
In a large bowl, combine ricotta cheese with spinach and stir fried vegetable mixture. Taste and adjust seasoning if necessary.
Prepare a muffin tin by greasing each well with melted butter or oil. Place one or two wonton wrappers inside each well, pressing down on the bottom and up the sides of the cup. If you are using a muffin tin with small/shallow wells, one wrapper works well. Otherwise, if using a tin with large or extra large wells, two wrappers are used to cover the inside.
Place a spoonful of vegetable mixture into each well. Then a spoonful of tomato sauce.
Layer another wonton wrapper on top, then scoop another spoonful of vegetable mixture and then tomato sauce.
Sprinkle grated cheese on each mini lasagna, then bake in a preheated oven at 375F for 10-12 minutes, until wrappers have turned golden.
Let cool for a couple minutes before serving with a side of salad.
https://stlcooks.com/mini-veggie-lasagnas/
Recipe and Photo: Little Toast / CC BY