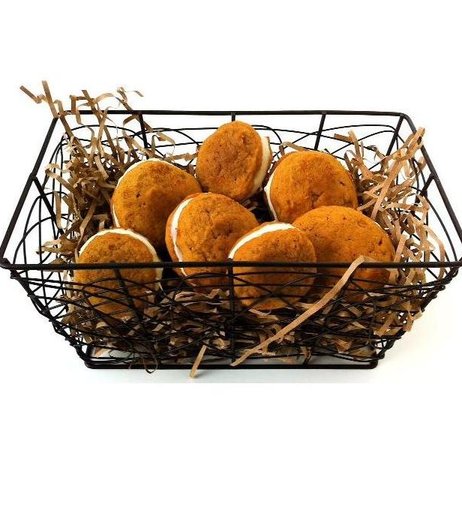 Pumpkin Cookies with Cream Cheese Frosting
Ingredients
For Cookies:

4 cups flour
2 teaspoons baking soda
3 teaspoons ground cinnamon
2 1/4 teaspoons pumpkin pie spice
1/2 teaspoon ground nutmeg
1 teaspoon salt
1 cup butter flavored shortening
1 cup (2 sticks) unsalted butter, at room temperature
1 1/4 cups white sugar
3/4 cup light brown sugar
2 cups canned pumpkin puree (not pumpkin pie mix)
2 eggs

For Frosting:

1/4 cup (1/2 stick) butter, softened but cool
4 ounces (1/2 block) cream cheese, cold
2 1/2 cups powdered sugar, sifted
2 teaspoons vanilla extract
1 teaspoon pumpkin pie spice (optional)
Instructions
For Cookies:

Preheat oven to 350 degrees F. Line two cookie sheets with parchment paper or silicone mats.
In a large bowl, whisk together flour, baking soda, cinnamon, pumpkin pie spice, nutmeg and salt. Set aside.
In the bowl of a stand mixer fitted with the paddle attachment, cream shortening, butter, sugars and pumpkin on medium speed until light & fluffy, about 3-4 minutes. Add eggs & mix well until thoroughly combined and creamy.
Reduce mixer speed to low and add the dry ingredients. Mix until just combined.
Drop cookie batter by heaping tablespoons onto prepared cookie sheets. Flatten tops slightly. Bake for 13-15 minutes. Let cookies cool on cookie sheets for 5 minutes then transfer to a wire rack to cool completely.
Frost cooled cookies with cream cheesing frosting (recipe below).

For Frosting:

In the bowl of a stand mixer fitted with the whisk attachment, cream butter and cream cheese on medium-high until light and fluffy, about 4-5 minutes. Reduce mixer speed to low and gradually add the powdered sugar. Add in vanilla and pumpkin pie spice, if using, and blend until moistened. Increase mixer speed to medium and beat frosting for 2 minutes until smooth & fluffy.
Frost cookies as desired.
https://stlcooks.com/pumpkin-cookies-with-cream-cheese-frosting/
Recipe and Photo: Foodista / CC BY