Jump to recipe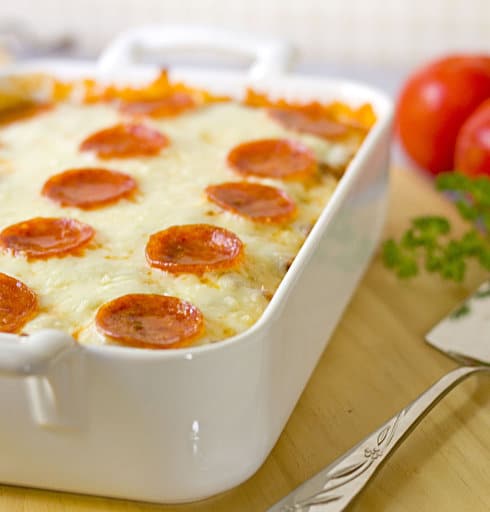 Ingredients
1 lb ground beef or equivalent amount of a ground beef/bulk Italian sausage mix
1/2 cup ricotta
pinch of oregano
pinch of basil
1 tbs grated Parmesan cheese
1 – 26 oz jar of pasta sauce
Pepperoni slices (I used 1/2 of a package of Hormel brand)
2 cups shredded mozzarella
1/2 cup shredded aged Provolone
Herbed Parmesan Drop Biscuits
Additional Parmesan cheese for topping
Herbed Parmesan Drop Biscuits
2 1/4 cup baking mix (like Bisquick or Jiffy)
1/4 cup grated Parmesan cheese
1 tsp Italian seasoning
2/3 cup milk
Instructions
Brown ground beef in skillet; drain fat. Mix in pasta or pizza sauce and pepper flakes; set aside. Mix ricotta cheese with the herbs and Parmesan in a separate bowl; set aside.
Mix the dry ingredients for the biscuits. Add milk and stir until combined.
Preheat oven to 375 degrees. Spray a 13 x 9 pan with non-stick spray. Drop biscuit dough by teaspoons in the bottom of pan, spacing evenly. It's OK if there is space between the dough–it will expand as it's cooked. Top with ground beef mixture and dot with the ricotta cheese mixture. Bake at 375 for about 20 min or until biscuits are puffed and beginning to get golden brown.
Top with mozzarella and provolone cheeses and distribute pepperoni slices evenly over top, increase oven temperature to 425 degrees. Return to oven and bake until cheeses are melted and beginning to bubble. This should take about 10 minutes.
Remove from oven and let stand 5 minutes before slicing and serving. May be topped with the additional Parmesan cheese.
Recipe and Photo: Foodista / CC BY