Jump to recipe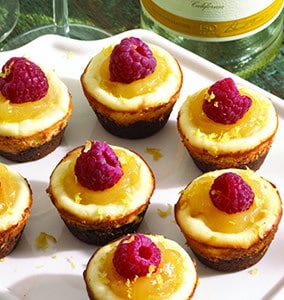 Mini Moscato Cheesecakes

Ingredients
1 cup finely ground gingersnap cookies
2 tablespoons butter, melted
12 ounces cream cheese, at room temperature
1/2 cup sugar
2 tablespoons flour
2 tablespoons Mirassou Moscato
1 teaspoon each: vanilla and lemon extract
1 egg, plus 1 egg yolk, beaten
Store bought lemon curd, lemon zest, mint and fresh raspberries (if desired)
Instructions
Preheat oven to 350°F, and spray a 24 cup mini muffin pan with nonstick cooking spray.
Stir together ground gingersnaps and butter in a small bowl. Press about 1 1/2 teaspoons into each cup then press firmly into the bottom of each. Brush any crumbs off the top of the muffin pan and set aside.
Beat cream cheese and sugar in a large bowl with an electric mixer until smooth; beat in flour, Moscato and extracts on low speed.
Add eggs and beat just until combined.
Spoon equal amounts into each cup (they will be very full).
Bake for 20 to 25 minutes or until filling feels set to the touch.
Let cool completely, and then run a small thin knife around the edge of each to remove from pan.
Place on a platter and top each with lemon curd, lemon zest, mint and fresh raspberries, as desired.
Recipe and Photo credit: Mirassou Winery