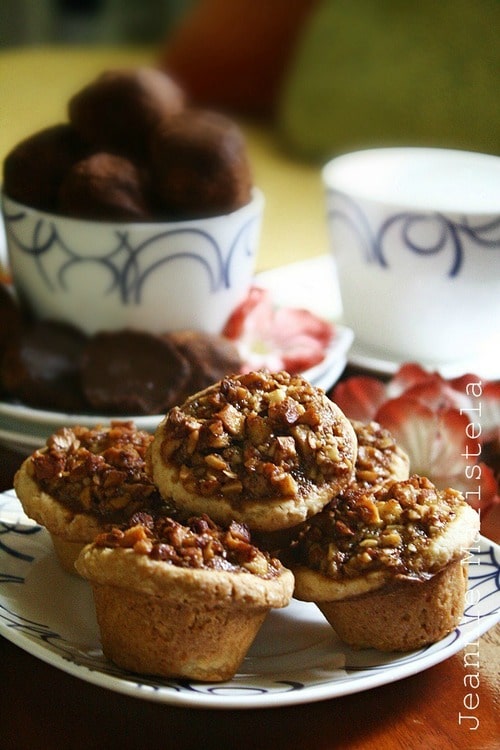 Maple and Almond Nut Tarts
Ingredients
Sweet Dough (tart shell)

2 1/3 cups unsifted all-purpose flour (*spooned gently into measuring cup, do not tap or shake cup when measuring)
1/2 teaspoon salt
1 cup granulated sugar
1/2 cup (1 stick) butter, cold and cut into cubes
1 whole egg

Maple and Almond Filling

2 large eggs
3/4 cup dark brown sugar
1/2 cup maple syrup
1 teaspoon cinnamon powder
2 teaspoons vanilla
2 tablespoons melted butter
4 cups coarsely chopped almonds (or you can also use slivered almonds)
Instructions
For the Tart shells

In a food processor, pulse all sweet dough ingredients together until the dough comes together.
Wrap dough in cling film, and chill for 30 minutes inside the fridge.

Maple and Almond Filling

Mix all filling ingredients together and set the mixture aside.

Assembly:

Preheat oven at 350'F
You will need 4 mini (12-mould) muffin pans.
Take the dough out of the fridge and scoop 1 tablespoon of dough into each mini muffin mould. Press dough and create a cylindrical indentation to hold the filling.
Spoon filling in each prepared unbaked shells.
Bake tarts for 20-25 minutes or until light golden brown.
Lift tarts from moulds 5 minutes after taking the pans out of the oven. Cool tarts on wire racks.
https://stlcooks.com/maple-and-almond-nut-tarts/
Recipe and Photo: Goddess of Scrumptiousness / CC BY-ND