Jump to recipe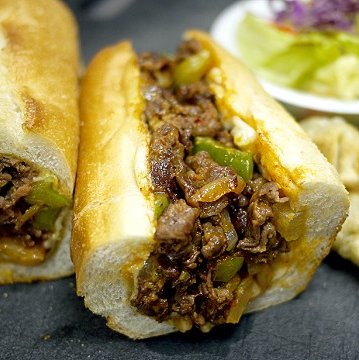 Korean-Style Philly Cheesesteaks

Notes
Beef mixture can be kept hot on low for up to 2 hours

Ingredients
3 to 4 pounds beef for stew, cut into 1 to 1½–inch pieces
2 medium sweet onions, cut into ½–inch wedges
2 red peppers, cut into 1–inch–wide strips
1 can (10.5 ounces) beef consommé
1/4 cup soy sauce
1/4 cup tomato paste
6 cloves garlic, minced
10 French rolls
Toppings
2 cups (8 ounces) cheddar cheese, cheddar jack shredded cheese, or cheddar and Monterey jack with tomato and jalapeno pepper shredded cheese
pepperoncini
bell pepper rings, assorted
Instructions
Place onions in 4½- to 5½-quart slow cooker; top with beef for stew, then pepper slices.
Combine consommé, soy sauce, tomato paste and garlic; add to slow cooker.
Cover and cook on high 6 to 7 hours or low 8 to 9 hours or until beef is fork-tender (no stirring necessary during cooking.).
Serve in rolls with cheeses and other toppings, as desired.
Recipe and Photo: recipes.wikia.com / CC BY-SA