Jump to recipe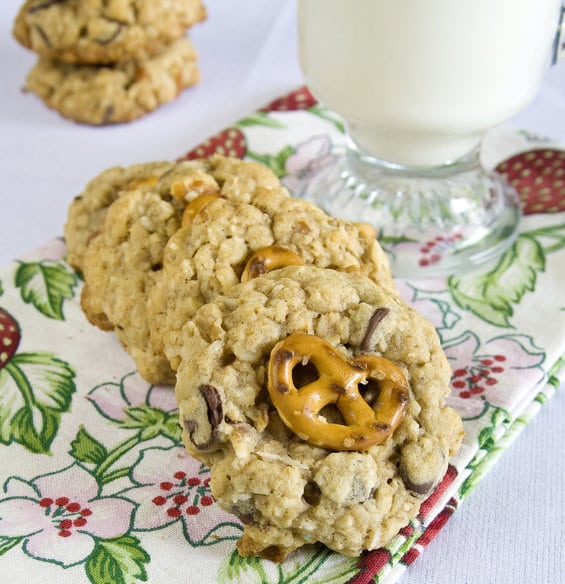 Cowboy Cookies With Pretzels and Raisinettes

Ingredients
1 cup butter, at room temperature
1 cup light brown sugar
1/2 cup granulated sugar
2 eggs
2 teaspoons vanilla extract
1 cup all purpose flour
1 teaspoon baking soda
1/2 teaspoon salt
2 cups old fashioned oats
1/2 cup chocolate covered raisins
1 cup semi-sweet chocolate chips
1 cup crumbled pretzels
1/2 cup shredded coconut
1/2 cup chopped pecans (optional)
Instructions
Preheat oven to 350
In a large bowl cream the butter and sugars.
Add the eggs and vanilla and mix until fully combined.
Stir in the baking soda, salt, and flour and mix until just combined being careful not to over mix.
Briefly mix in the oats.
Add the chocolate covered raisins, chocolate chips, pretzels, coconut and pecans; stir until just combined.
Scoop 1 tablespoon of cookie dough onto un-greased cookie sheets about half an inch apart.
Bake for 10 – 12 minutes until the cookies are golden brown along the edges.
Recipe and Photo: Foodista / CC BY