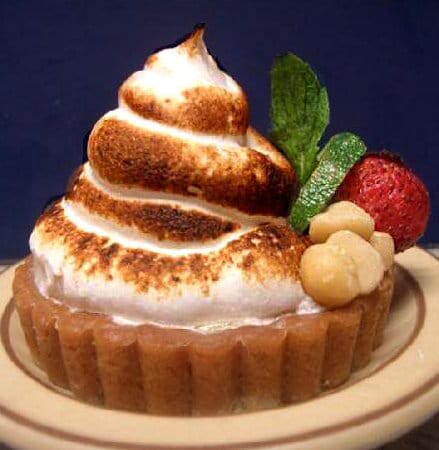 Key Lime Tartlets with White Chocolate Mousse
Ingredients
Graham Cracker Tart Shells

1 cup (2 sticks) unsalted butter, softened
1/4 cup firmly packed dark brown sugar
1/4 cup granulated sugar
1/4 cup honey
2 cups all purpose flour
1/2 cup whole wheat pastry flour
1 tsp salt
1/2 tsp ground cinnamon
1/2 cup ground macadamia nuts
6-12 tsps of raspberry preserves or jam (optional)

Key Lime Filling

1 can (14 oz) sweetened condensed milk
1/2 cup bottled or fresh key lime juice
1-2 tsps grated key lime or lime zest (optional)
1 tsp vanilla extract
2 eggs

Macadamia Simple Syrup

1/2 cup white granulated sugar
1/2 cup water
1/2 cup whole macadamia nuts
Candied Macadamia Nuts
1 cup white granulated sugar
1/2 cup of water
1 cup whole macadamia nuts
A favorite spice or two, like cayenne pepper, or coriander (optional)
Instructions
Graham Cracker Tart Shells*

To prepare the graham cracker shells, in the bowl of an electric mixer fitted with a paddle attachment, cream the buter and sugars until smooth, about 1 minute.
Notes
*Alternatively, you can use a basic graham cracker crust, using ground graham crackers. sugar and melted butter.
https://stlcooks.com/key-lime-tartlets-with-white-chocolate-mousse/
For full recipe instructions, visit Parsley, Sage, and Sweet by clicking here!
Recipe and Photo: Parsley, Sage, and Sweet / CC BY-ND