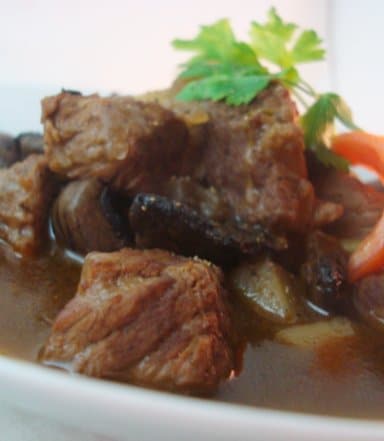 Ingredients
2 lbs Beef stew meat, cut into cubes
4 tbsp Sweet Paprika
2 medium sized Onions cut into rings
4 cloves Garlic
3 fresh Tomatoes cut into chunks
250ml Red wine
6 Mushrooms, cut into small cubes
600ml Beef stock
3 Potatoes, cut into cubes
150g Flour
3 tbsp Olive oil
Salt
Black pepper
Instructions
Place topside beef chunks in a large bowl. Sprinkle liberally with salt and freshly ground pepper. Toss with the flour and 1 tablespoon of the paprika.
Heat a heavy casserole pan over medium high heat and add 1 tablespoon of the olive oil. Place beef chunks in a single layer and brown on two sides. You will probably need to do this in batches. Do not crowd the meat or it will boil instead of brown. Remove browned beef chunks to a bowl.
Reduce heat to medium-low. To the heavey casserole, add the remaining 2 tablespoons of olive oil, onion rings, mushrooms and garlic. Toss to coat with the olive oil. Cover tightly and sweat the vegetables, stirring occasionally, until onions are limp but not browned and mushrooms are releasing their liquid, about 5-8 minutes.
Add red wine to the vegetables and cook for 2 minutes, scraping up browned bits from the bottom. Add beef broth, potatoes and the remaining of the paprika. Return the beef cubes and any accumulated juices to the pan. Stir until well-combined. Cover tightly, reduce heat, and simmer on low heat for 1 hour 30 mins, stirring occasionally, until beef is fork-tender.
Remove the casserole from heat and set aside. Taste and add additional salt if necessary.
Serve the Hungarian Goulash over hot buttered pappardelle with chopped parsley or boiled white rice.
Notes
Optional: Stir in 3 tablespoons of sour cream until completely incorporated into the gravy preferably when the Goulash is not hot as the cream will split up.
https://stlcooks.com/hungarian-goulash-stew/
Recipe and Photo: Pimp That Food / CC BY-NC-ND