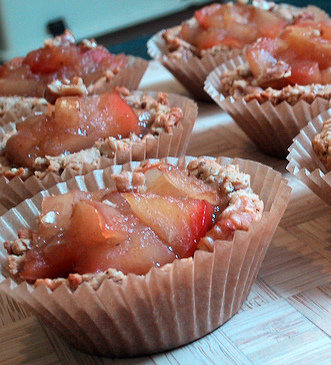 Ingredients
Crust

1 cup rolled oats (ground)
1/2 cup brown rice flour
1/2 cup spelt flour
2 teaspoons baking powder
3/4 teaspoon sea salt
4 tablespoons peanut butter
2 tablespoons margarine or applesauce
3 tablespoons – 1/2 cup unsweetened soymilk or nut milk
1 tablespoon ground flax seeds or other egg replacer
1 teaspoons cinnamon
3/4 cup raw walnuts, toasted
pinch of cinnamon
pinch of nutmeg
3 tablespoons agave nectar

Apple Filling

4 apples of choice (I used 3 Gala and 1 Pink Lady)
3 heaping tablespoons brown sugar
1 small-medium sized lemon
1 cinnamon stick
4 pods of cardamom
6 whole cloves
4 tablespoons to 1/2 cup agave nectar (depending on the sweetness level desired)
2 tablespoons arrowroot powder
1/2 teaspoon cinnamon
Large pinch of nutmeg
Instructions
Crust

Grind one cup of rolled oats in food processor until it reaches a flour like consistency. Add brown rice flour, spelt flour, baking soda, and sea salt into food processor and pulse a few times. Move mixture to a large glass bowl or stainless steel bowl and place in freezer.
Next place raw walnuts on a baking sheet lined with wax paper. Sprinkle walnuts with cinnamon and nutmeg. Toast walnuts either in a toaster oven or oven set to 350°F for 10 minutes moving walnuts around frequently for even toasting. Meanwhile begin preparing apple filling. Remove walnuts after 10 minutes and set aside to cool.

Filling and Assembly

Wash, peel, core apples and slice into small 1/2-inch cubes. Place in a medium size pot over medium heat with a small amount of water, about 1/4 cup – 1/2 cup adding water if needed. Squeeze lemon juice and add the stick of cinnamon as well as cardamom pods and cloves into pot. Cover pot and allow to simmer for about 20 minutes. Check apples and add brown sugar. Cover and simmer for 10 more minutes, adding arrowroot powder (will thicken all remaining liquid). Here it is up to you to determine how much longer the apples will need to simmer. They should not loose their form and turn into applesauce, but they should be very soft like your favorite apple pie filling. Lastly add ground cinnamon and nutmeg as well as agave nectar to taste. Once the mixture has begun to thicken and the apples have reached the desired consistency remove from heat, and place aside..
Preheat oven to 350°F.
While filling cools down move back to the crust. In the food processor grind flax seeds. Place ground flax seeds in a small bowl and stir in water. Move to the side for later use. (Arrowroot powder with a dash of water will work as an egg replacer as well.)
Remove flour mixture from freezer. Mix peanut butter and margarine or applesauce into flour. You can use your hands to help distribute ingredients evenly. Add flax mixture, cinnamon, agave nectar and start adding soymilk 1 tablespoon at a time. Knead dough until all ingredients are well combined and you can roll small balls of dough without breaking apart. Now you can sprinkle broken pieces of walnuts into dough or you can wait and sprinkle walnuts with filling.
Oil a muffin pan. Roll a small amount of dough into a ball, about 1 1/2 inches in diameter. Place a ball of dough into each muffin tin and press dough down and to the sides so it completely forms along the edges and up the side. Once all individual crusts are formed place muffin pan into oven for 10 minutes.
Promptly remove muffin pan from oven after 10 minutes. Fill each individual tart with remaining walnuts and apple mixture to the top of the crust rim. Make sure to not scoop cardamom pods, cloves, or pieces of cinnamon stick into the tart crusts. You can also garnish the top with a little bit of the toasted walnuts. Place back into oven for 20 more minutes.
Remove promptly and allow to cool a couple of minutes before attempting to remove tarts from pan. You can place baked tarts into cupcake cups for presentation. These Apple Pie Tarts are best if served and consumed soon after removing from the oven. Although from experience they will keep very well for several hours, or place in fridge overnight then toast or reheat in oven for a few minutes.
https://stlcooks.com/apple-pie-tartlets/
Recipe and Photo: Dessert Mixer