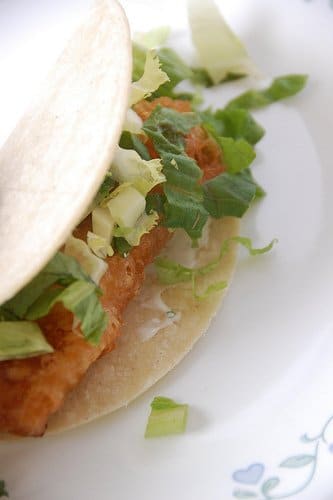 Recipe: Homemade Fish Tacos
Ingredients
1 Lb. Orange Roughy Fillets (original recipe called for red snapper)
1 Cup Flour
1/2 teaspoon Baking Powder
1/4 teaspoon Salt
1 Cup Beer (we used Dos Equis)
Oil for deep frying
Corn Tortillas
White Sauce (see Google search to find a recipe)
Shredded Lettuce
any other desired topping like: Avocado slices, cilantro, cabbage, shredded carrots, etc
Instructions
Heat the oil in a frying pan until it reaches 177°C (350°F).
Wash and pat-dry fish fillets. Slice into 1-inch thick strips. Set aside.
In a large bowl combine the flour, baking powder, and salt. Whisk to combine thoroughly. Then, pour in the beer and mix with a spoon until smooth and no longer lumpy.
Dip a piece of fish into the batter so that it is thoroughly coated and place in the frying pan. Repeat with a few more strips of batter-coated fish, but make sure not to crowd the pan. Fry until pieces are golden in color (about 4 minutes).
Remove the fish to a cooling wrack that has something (like a cookie sheet) bellow it to catch the oil that will drip off the strips.
Serve on tortillas with your choice of toppings.
Recipe and Photo Credit: For the Love of Food / CC BY-NC