Jump to recipe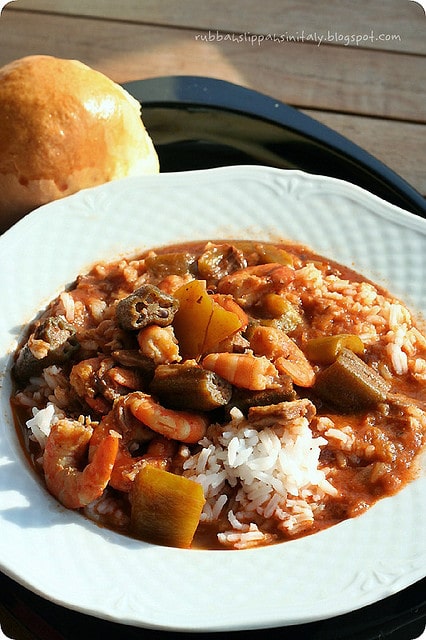 Gumbo Italiano

Notes
– If you do not wish to use microwaveable rice, feel free to substitute 2 cups (prepared) of your favorite rice.

– If you only find whole frozen okra in the freezer case, add the whole pods to the pan; before serving, just chop each pod into large chunks with a pair of kitchen shears.

– Italian sausage is delicious in this recipe, but it requires an extra step: Saute the sausage in a large skillet until it's cooked, 10-15 minutes. Then add it to the gumbo.


Ingredients
1 package (8.8 ounces) microwaveable white rice
1/4 cup mild or hot giardiniera plus 2 tablespoons oil from the jar
2 tablespoons flour
3 ribs celery, diced
1 bell pepper, diced, optional
1 cup frozen each chopped onion, chopped okra, see note
1/2 teaspoon each or to taste: salt, ground red pepper
1 container (32 ounces) low-sodium chicken broth
1 can (16 ounces) diced tomatoes
15 precooked frozen shrimp, tail off
2 to 3 links flavored smoked chicken or pork sausage, such as artichoke and garlic, cut into 1/2-inch slices
Instructions
Prepare rice according to directions; set aside. Meanwhile, heat the giardiniera oil in a Dutch oven over medium-high heat; add flour. Cook, stirring, until flour has browned, about 3 minutes. Add the giardiniera, celery, bell pepper, onion, okra and red pepper; cook, stirring, until vegetables have browned and softened, about 5 minutes, adding additional oil if necessary.
Stir in the broth and tomatoes; heat to a boil. Lower heat to a simmer; stir in the shrimp and sausage. Cook until meat and fish have warmed, 3-5 minutes. Divide the rice among six bowls; add the gumbo.
Photo Courtesy of Rowena on flickr.com / CC BY-ND