Jump to recipe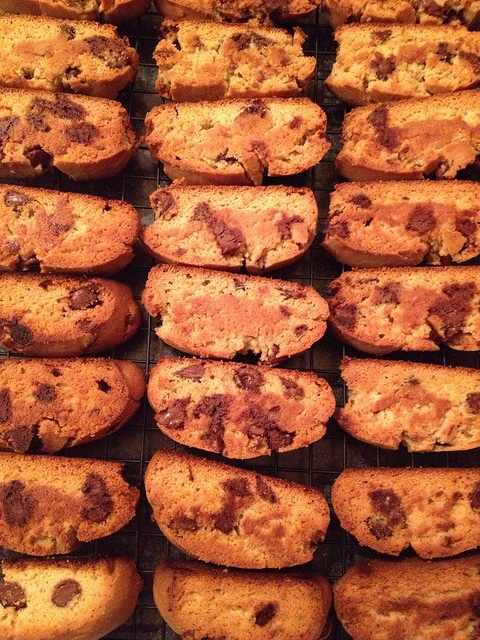 Ingredients
1/2 cup unsalted butter, softened
2/3 cup packed light brown sugar
2 tsp baking powder
1/2 tsp salt
2 large eggs
1 tsp vanilla extract
2 cup all-purpose flour
3/4 cup chocolate chips
Instructions
Line baking sheet with parchment paper or silicone baking mat. Set aside.
Preheat oven to 375 degrees F.
In a large mixing bowl of a stand mixer, beat butter for 30 second. Add brown sugar and cream until fluffy.
Add baking powder and salt and mix well.
Add eggs, one at a time, and vanilla. Beat well.
Lower the speed of your mixer and add as much flour as you can. Stir the rest in.
Stir in the chocolate chips.
Transfer the biscotti dough onto the floured surface.
Shape into a log and divide into two portions. Place both onto prepared baking sheets.
Shape each portion into a 8″ log.
bake for 20 minutes or until cracked on top and just starting to brown.
Remove from oven and cool for 15 to 20 minutes.
Preheat oven to 325 degrees F.
Slice each log diagonally into 3/4″ slices (you should get about 12 slices from each log).
Place the slices onto a baking sheet laying them on their sides.
Bake 10 minutes, then flip each piece onto other side. Bake additional 8 to 10 minutes.
Cool completely on a wire rack.
Photo Courtesy of Isha Zubeidi on flickr.com / CC BY-SA