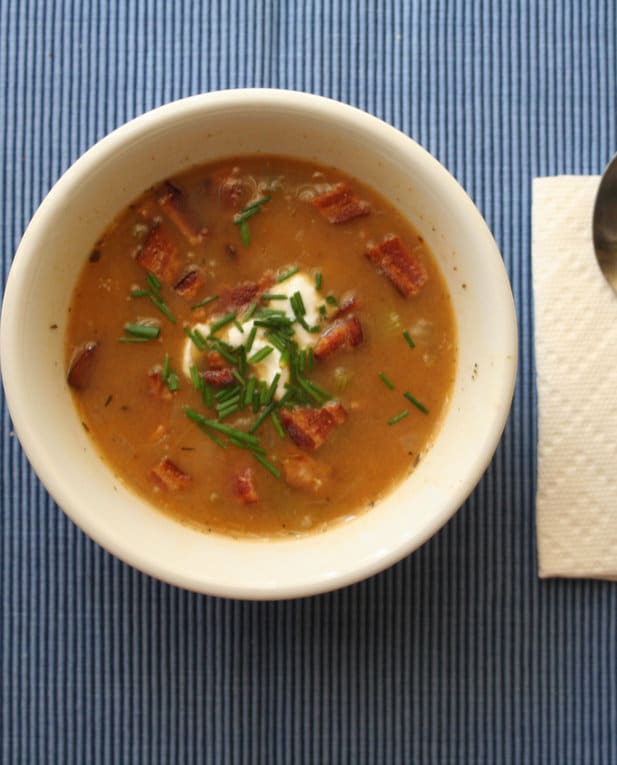 Recipe: Spicy Corn Chowder with Bacon and Chives
Ingredients
4 ounces of bacon
1 tablespoon extra-virgin olive oil
1 large onion, diced
5 celery ribs, diced
1 teaspoon herbes de Provence
1/2 teaspoon smoked paprika
1 teaspoon ground cumin
1/2 teaspoon ground chipotle chili powder
1/4 teaspoon fine-grain sea salt (or more to taste)
1/4 teaspoon fresh-cracked black pepper
4 medium-sized Yukon gold potatoes, cubed
4 tablespoons flour
4 cups chicken stock (low-sodium or homemade)
2 cups water
4 ears of corn, kernels shaved from the cob and one shaved cob reserved
Greek yogurt, for garnish
snipped chives, for garnish
Instructions
Fry the bacon in the bottom of a large soup pot, until the bacon is crisp. Remove the bacon to a paper towel-lined plate and set aside. Drain the bacon drippings from the pot, but do not wipe out the pot. Return the pot to the stove, turn the heat up to medium high and heat the olive oil in the pot. Add the onion, celery and herbs (through the black pepper). Stir to coat the vegetables with the oil and herbs and cook until the onions have become translucent and soft (several minutes). Add the potatoes and cook for five minutes, until the potatoes have begun to soften. Turn the heat down to low and sprinkle the flour over the vegetables. Stir and cook for several minutes.
Add the chicken stock and water. Crumble the bacon and add all but 1 tablespoon to the soup. Next, stir in the corn kernels. Finally, add the reserved, shaved cob of corn to the soup (which will help flavor and thicken the broth). Bring the soup to a boil, reduce the heat and cook, covered, for 30 minutes.
Before serving, remove the shaved corn cob and taste the soup for seasoning. Add more salt if necessary. Serve the soup with a dollop of Greek yogurt, snipped chives and the reserved crumbled bacon.
Photo Courtesy of whitneyinchicago on flickr / CC BY
Recipe Courtesy of The Kitchen Sink Recipes