Jump to recipe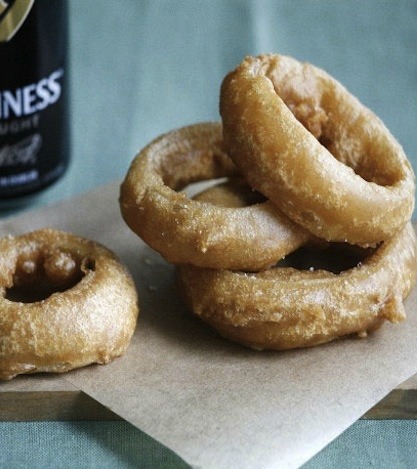 Ingredients
4 cups vegetable oil, for frying
2 cups flour
¼ teaspoon cayenne pepper
1 teaspoon baking powder
2 teaspoons cornstarch
½ teaspoon salt, plus more for seasoning
½ teaspoon ground white pepper
1 (12–ounce) bottle Guinness, at room temperature
1 large yellow onion, peeled and cut into ½–inch thick rings
Instructions
Preheat oil to 360°F in a deep stockpot or deep-fryer.
Combine flour, cayenne pepper, baking powder, cornstarch, salt and white pepper in a bowl.
Whisk in Guinness until you get a smooth batter.
Place onion rings in Guinness batter and coat well.
Then transfer to the deep fryer and fry for 1 – 2 minutes or until the batter is golden brown.
Remove excess oil by placing onion rings on absorbent paper.
Season with salt before serving.
Recipe and Photo: recipes.wikia.com / CC BY-SA