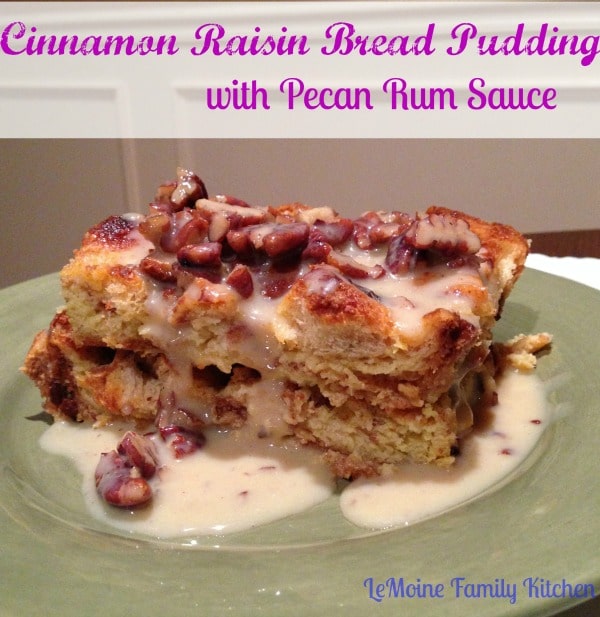 Cinnamon Raisin Bread Pudding with Pecan Rum Sauce
Ingredients
1 Cinnamon Raisin Bread from Panera
5 eggs
1 cup light cream
1 cup low fat milk
3/4 cup granulated sugar
2 tsp vanilla
1/2 cup sweetened condensed milk
cinnamon

For the Pecan Rum Sauce:

3/4 cup toasted and chopped pecans
1 stick of butter
1/4 cup rum
1/2 cup sweetened condensed milk
1 tsp vanilla
3 Tbsp light cream
Instructions
Preheat your oven to 350 degrees.
Cut the bread into 1 inch cubes. Allow to dry out for a few hours (or overnight) so that the bread doesn't fall apart when we mix it with the liquids.
In a large bowl whisk together the eggs, light cream, milk, sugar, vanilla and sweetened condensed milk.
Pour the custard mixture over the bread, stir to coat and allow the bread to soak up the goodness for 10 minutes.
Butter a 10×10 baking dish and pour in all the bread and custard mixture. Sprinkle the top with come cinnamon and cover with foil.
Now the important part is how you cook it. Bread pudding takes a while to bake and you want to avoid having a dried out bread pudding. Solution, baking it in a water bath. Grab either a roasting pan or a baking dish large enough to fit the one with the bread pudding.
Place the bread pudding dish into the larger pan and place into the oven. Carefully pour water into the larger pan, enough to come up about halfway on the bread pudding dish.
Bake with the foil on for about 45 minutes. Remove the foil and bake for another 30-35 minutes until the top is lightly golden and the custard is cooked.
Now for that Pecan Rum Sauce!
In a small saucepan, over low heat, melt the butter. Add in the rum and let it simmer for about 8 minutes until the alcohol has cooked out.
Stir in the condensed milk and continue to stir until incorporated.
Stir in the light cream and vanilla, again until incorporated.
Shut the heat, stir in the chopped pecans and pour overtop with the entire dish of bread pudding or individually on plates.
https://stlcooks.com/cinnamon-raisin-bread-pudding-with-pecan-rum-sauce/
Recipe and Photo: Foodista / CC BY