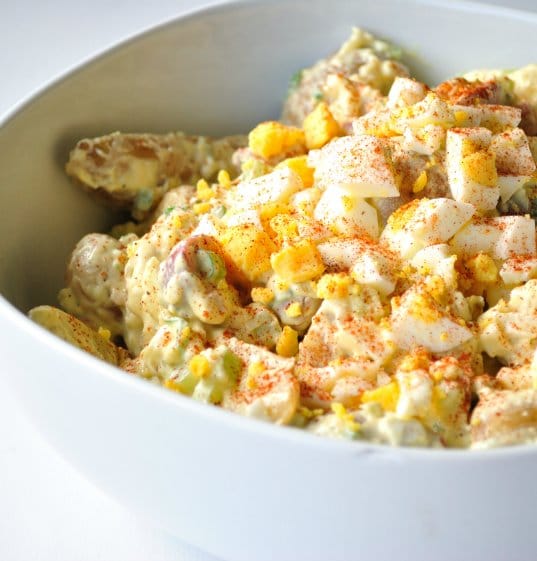 Ingredients
2 lbs fingerling potatoes
¼ cup cider vinegar
2 tbsp kosher salt, plus 1 tsp
4 hard-boiled eggs, roughly chopped (chop 3 and keep together, reserve 1)
1/2 cup mayonnaise
1 tsp prepared yellow mustard
3 tbsp sweet pickle relish
1 rib celery, about 1/3 cup, small dice
1/4 cup red onion, small dice
1/4 cup green onion, chopped
Fresh cracked pepper
Paprika
Instructions
In a medium saucepan, cover the potatoes with cold water and add the 2 tbsp of salt. Boil the potatoes until tender and pierced easily with a sharp paring knife. Drain completely and spread the potatoes on a single layer in a baking pan.
Slice open the potatoes lengthwise, to expose as much of the inside as possible. Sprinkle the vinegar, 1 tsp of salt, and a few turns of fresh cracked pepper over the potatoes and toss lightly. Flip the potatoes so that the cut side is facing down, to soak up any vinegar on the bottom of the pan. Now, cover with plastic wrap and refrigerate until cool. They don't need to be cold, but they shouldn't be warmer more than room temperature.
In a large bowl combine the mayonnaise, mustard, relish, onions, 3 of the chopped eggs, and the celery. Combine thoroughly, then fold in the potatoes to coat. Scoop the potato salad into a serving bowl, then top with the remaining chopped egg, and sprinkle with paprika.
Cover with plastic wrap and refrigerate until ready to serve.
https://stlcooks.com/fingerling-potato-salad/
Recipe and Photo: Feeding Darragh / CC BY-SA